Axl Rose Suing Activision Over Guitar Hero III: Legends of Rock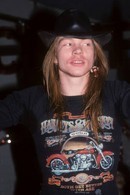 Axl Rose is suing the bosses behind popular game series Guitar Hero for more than $20 million for alleged breach of contract and fraud.

The Guns N' Roses frontman filed a lawsuit on Tuesday at Los Angeles Superior Court claiming Activision Blizzard chiefs "fraudulently induced" him into authorizing the band's song Welcome to the Jungle in Guitar Hero III: Legends of Rock.
 
Rose claims bosses promised him the game wouldn't feature any reference to his former bandmate Slash or the guitarist's band Velvet Revolver, before releasing a cover featuring "an animated depiction of Slash, with his signature black top hat, long dark curly hair, dark sunglasses and nose-piercing".
 
The lawsuit states, "(Activision Blizzard) began spinning a web of lies and deception to conceal its true intentions to not only feature Slash and VR (Velvet Revolver) prominently in GH III, but also promote the game by emphasizing and reinforcing an association between Slash and Guns N' Roses and the band's song Welcome to the Jungle."
 
Rose's lawyer, Skip Miller, adds, "This lawsuit is about protecting Guns N' Roses and Welcome to the Jungle, and is about holding Activision accountable for its misuse of these incredibly valuable assets. The relief we are seeking is disgorgement of profits and compensatory and punitive damages."