'Awkward' Season 4 Episode 9 Recap: My Personal Statement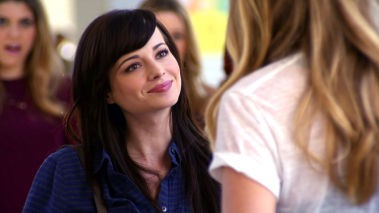 It's the moment we've all been waiting for: when Jenna sheds her insecure skin and owns Jenna 2.0 that's been fighting to come out all senior year. Well, she finally made an appearance and left Sadie speechless and Eva pissed off, in the process.
Let's dive into "Awkward's" penultimate ep, "Personal Statement," which kicks off with Jenna traipsing confidently around her house flaunting a collegiate scarf. A hopeful fashion statement for pulling the trigger on her college app submissions later on that night, but still makes a mental checklist of her qualifications (grades ✓extra-curricular activities ✓ class rank ✓). The only thing shaky is her college essay, so passes it along for a fresh eyes view to someone that never passes up a chance to read: Luke. He, of course, tells her it's perfect just the way it is, so use that scarf as ear muffs when Lacey suggests a better font and new color, Jenna.
If only she could turn a deaf ear to her dad, who's discovered the value in social media: embarrassing your teenage daughter. (ASIDE: Welcome to the club, I recently had to explain what W.T.F stood for on a recent Facebook post to my dad. I used Hugh Jackman's definition.)  He floods Jenna's social media newsfeed with one humiliating toddler pic after another to the point she's drowning in mortification when Luke caption quotes her as "my little pooper."
What truly stinks is the questionable status of Jemara's friendship post-high school. Although, the two secretly know their higher learning paths may diverge, but not without one last bestie festie to synchronize submit their college apps.
Another conjoined duo is Matty and Eva, who have officially declared their 'shipper status (or "connection" as Eva puts it) strolling hand-in-hand into the cafeteria, right up in Jenna's grill. Leaving the pleasantries to a minimum he requests his college essay that she helped him write. (Did you peep Eva's green with envy face when she realized they actually did something together?) Jenna promised to send it that night, but drew a blank on his curt 'tude since his prison break.
That missing piece of the puzzle comes in the form of Eva, who gladly humble-bragged her date night with Matty later that night to Jenna in a locker-face off. Jenna's response: A passive aggressive drawn F.U. inside her locker. Very apropos.
Just like Lacey's makeover of Val. She steered her away from the pant suits and fanny packs and led her to an old standby, a classic little black dress for her high school reunion. Will it be enough to impress her high school crush and/or the bitch of her class? We can guarantee the food won't be as Sadie's German food truck is catering the shindig. Taste tester, anyone?
I would definitely recommend a lie detector test for Eva, as she continues to lie to Matty about anything connecting him with Jenna (we can add possessive to that list). The saboteur fibs that Jenna never sent over his essay, despite doing so and she quickly hits the delete button.
Meanwhile, girls' night kicks off with a bestie selfie and then it's back to business of being college desirable via social media, first step scrubbing those illicit boozing, partying pics of Matty and Jenna that detract college recruiters. Replace them with Tamara's staged shots of Jenna the scholar. Not so much in real life, considering how fast she erased those math equations from the board. Before she could knock it off its easel and beat it with a dry eraser, Luke makes a surprise visit to sweep Jenna off her soon-to-be college bound feet with a jazz concert under the stars. Not one to miss a cue, Tamara packs her stuff and declares bestie festie D.O.A. Since Luke is the epitome of a perfect boyfriend he ditches the concert idea and offers fro-yo for all, then poof he'll be gone, but not without capturing this "cherry on top" moment with a B.F.G.F selfie.