'Awkward' Season 4 Episode 10 Recap: 'Snow Job'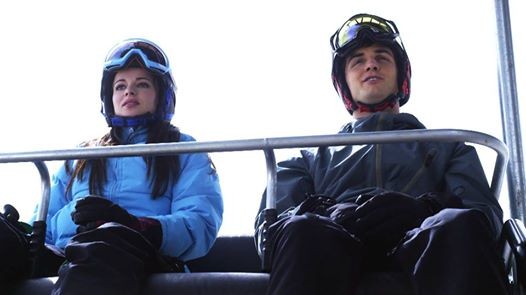 Famed theologian Martin Luther (most known for posting his ideas on a church door) once said, "A lie is like a snowball. The longer it is rolled on the ground the larger it becomes." Eva's mounting lies created a whole snowstorm, figuratively, of course. However, I wouldn't put it past her in the literal sense. Hence "Awkward" season 10 mid- season finale ep title "Snow Job." Eva, or should I say Amber (more on that later) certainly put in work to distance Matty from his friends snow pile of evidence against the master manipulator.
Starting with Sadie, who got kicked off the cheese bus heading to the senior ski trip, for doing what we all wish we could: attempt to rip out Eva's goldie lock extensions. Sadie wanted to put hands on Eva because (other than the obvious case of her breathing) she poisoned Matty into believing Sadie has romantic feelings for him after their experimental smooch. Expelled from the slopes, Sadie decides to play "True Detective," and who you ask is the Woody Harrelson to her Matthew McConaughy? None other than her flirty food truck side kick Sergio.
Meanwhile back on the bus, Eva and Jenna are exchanging stink eyes, while Tamara throws one Jake and Lissa's way for their obvious flirting. Already depressed that she'll be solo on the slopes (Luke wouldn't dare part with his books for so long) she's completely humiliated when her parentals tag-a-long to relive their senior trip experience, including make-out sessions. No ski mask in the world could hide that shade of parents-living-vicariously-through-their-kid embarrassment.
Good thing Jenna has Houdini as a boyfriend because Luke pops up whenever she needs him, as Jenna describes "like magic," he saved her from the singles line of the ski lift. Tamara tries to create her own sparks with Pete, who offers to go down the slopes with her, and wins best line of the night with this response,  "so up to go down … the mountain." Riiiggghhhttt.
Jenna and Luke bump into MatEva at the bottom of the mountain. Before continuing on their next snow challenge, Eva taps into her inner mean girl and trips Jenna, leaving Matty to help her up (that's a first). The ex's are forced to share a lift behind Luke and Eva. Uh Oh. While Eva never seems to be at a loss for words or affection (anyone else peep Eva petting Luke?) Jenna's monosyllabic when it comes to expressing her thoughts on Eva.
Sadie has a few choice adjectives Jenna could borrow as she tracks down intel on Eva. First stop, her listed address that's a palatial mansion. Maybe Eva's stories are true. Maybe she did go to a Swiss boarding school, rubbed elbows with cele—I call shenanigans. The stories may be true but she's the wrong person to experience them. In other words, Eva's an identity thief. Rings true to me, what say you? Sadie and Sergio talk to the real Eva—a big haired Lisa Rinna—who whips out receipts on fake Eva's retail thievery totaling thousands.
It probably equates with the number of lies she's told Matty.  The most recent one related to panty-gate; Eva told Matty that Jenna was telling people that they slept in her bed. We all know that was a straight up lie. How would Jenna know they slept together if it wasn't for what Eva left behind? Turning a deaf ear to logic and reasoning Matty tells Jenna to stay away…