Avril Lavigne's New Single 'Here's To Never Growing Up' Is Catchy (Listen)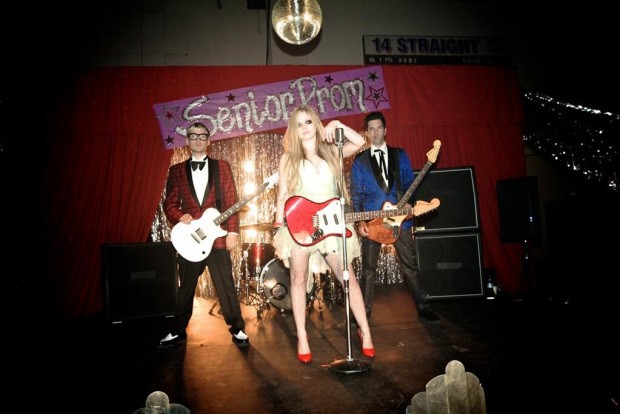 Pop princess Avril Lavigne has finally unveiled the lead single for her upcoming currently-untitled fifth studio album!
The single, titled "Here's To Never Growing Up," is about youth and having fun no matter how old you are. Just like the title suggests, the 28 year old Canadian singer vows to never change the way she is and "growing up".
The upbeat anthemic song, with its pop-rock melody and catchy chorus that will definitely stick in its listeners' heads, will probably do pretty well on the charts and I can foresee it becoming as big as, or maybe even bigger than Taylor Swift's "We Are Never Ever Getting Back Together". Here's to really really long song titles that take forever to type!
But seriously, it's Avril Lavigne. That lady – I'm sorry, teenager – can turn any song into a hit. She could sing an aria and make it a #1 song on Billboard. Of course, some fans are still mourning the loss of "the old Avril." I miss her too, she used to be such a badass skater-chick-slash-rocker and now, she's one of them attractive pop-singing females using auto-tune like nobody's business.
Nevertheless, although "Here's To Never Growing Up" is essentially a pop song with a catchy hook just like all the other songs on the radio, it definitely sticks out due to its fun and youthful lyrics. Also, Avril's unique voice definitely adds color to the song and I think it's safe to say that this song is going to be big with the teens, pre-teens and young adults. And maybe the cool parents as well.
You can purchase "Here's To Never Growing Up" from iTunes for only $1.29! The music video for "Here's To Never Growing Up" is currently in post-production and will be released soon. The video is set at a senior prom and her former guitarist Evan Taubenfield will appear in the video!