Avril Lavigne Baffled After Her 'Hello Kitty' Video Is Labeled Racist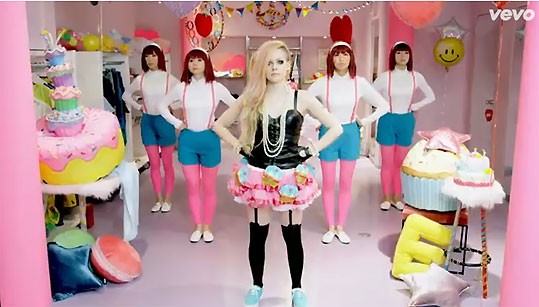 There's no such thing as bad publicity, and Avril Lavigne is back in the spotlight again after some fans complained that her new music video "Hello Kitty" is racist.
In the promo, Lavigne prances around on a rooftop, in a candy store, and in a sushi bar as four expressionless Asian girls pose as her backup dancers, exaggerating Japan's kawaii (cute) culture.
Some critics accused the pop star of perpetuating racial sterotypes, and the hashtag #avrilracist became a trending topic on Twitter.
One user wrote: "Not sure if this Avril Lavigne video is terrible, racist, or terribly racist", while another tweeted, "Oh Avril, this is literally the worst music I have ever heard. And then you had to go and make it kinda racist. Why."
Stunned by the backlash, Lavigne explained her decision to focus on Japanese culture in her video, writing: "Racist??? LOLOLOL!!! I love Japanese culture and I spend half of my time in Japan.

"I flew to Tokyo to shoot this video specifically for my Japanese fans, WITH my Japanese label, Japanese choreographers AND a Japanese director IN Japan."

Other fans have jumped to her defense. Another user wrote: "The background dancers with their serious faces seemed to be just like robert palmer's background band in addicted to love music video putting focus or attention on the main entertainer. This was a new style and a surprising style coming from avril lavigne which was truly enjoyable. Very Kawaii!