'Avengers' Stuntman Injured On Set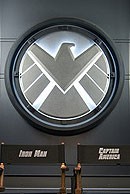 A stuntman was severely injured while filming new action film The Avengers in Arizona on Friday.

Jeremy Fitzgerald was shooting scene, which required him to fall from building, when he caught his foot on the way down, slammed his head against a brick wall and cut open his scalp, according to TMZ.com.

The brave daredevil decided not to halt filming and head to hospital for stitches - he went straight back to work after a large bandage was applied to his bloodied head.

An on-set spokesperson tells TMZ.com, "He was fine. He slid briefly along the side of the building. He got right back up and did several more takes."