Australian Scientists Name Rare Fly After Beyonce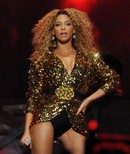 New mom Beyonce has the dubious honor of inspiring the scientific name for a rare species of fly.

Researchers in Australia have renamed a breed of horse-fly after the Crazy In Love superstar, who welcomed a daughter, Blue Ivy, on Saturday.

The creature, which was first discovered in the year of the star's birth, 1981, will now be called Scaptia (Plinthina) Beyonceae.

Scientists claim they decided on the name after the insect's golden hair reminded them of Beyonce.

Bryan Lessard, from Australia's science agency CSIRO, says, "It was the unique dense golden hairs on the fly's abdomen that led me to name this fly in honor of the performer Beyonce as well as giving me the chance to demonstrate the fun side of taxonomy - the naming of species."