Austin Mahone Postpones Entire Tour Over Bout With The Flu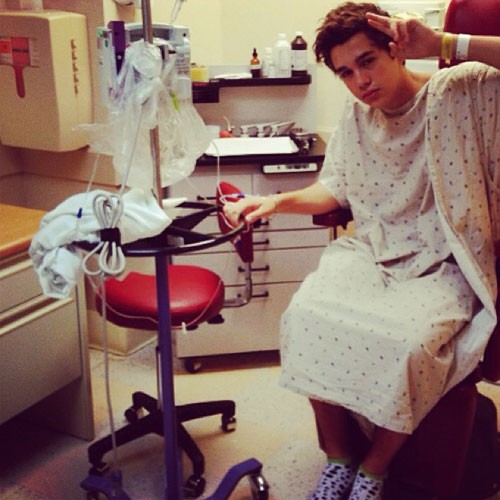 Teen star Austin Mahone has been forced to postpone his entire "MTV Artist to Watch Tour" over a severe bout with the flu.

The YouTube star-turned-pop singer had hoped to only postpone this weekend's shows in Miami and Orlando, Florida, to next weekend, but now the entire tour has been pushed back.

"Mahomies [fans] I'm so so so sorry but I have to reschedule the shows tomorrow in Miami and in Orlando," he tweeted on Wednesday. "I can't believe this is happening its my first tour I'm so upset. I feel like I'm letting you all down.

"Its Doctor's orders I have a bad flu 103 fever and I can't move. If I could go I would."

The singer posted a selfie while in the hospital to Instagram, writing, "I've never felt so bad."

Unfortunately, Austin's health is enough of an issue for the whole tour to be scrapped. The announcement was made on his Twitter page on Thursday afternoon by the singer's mom, Michele.

Hey Mahomies its @michelemahone Austin is very ill. Unfortunately we are going to have to postpone the entire MTV Artist to Watch Tour... We feel very bad but we have no choice but to POSTPONE the tour for now. Thank you for your prayers.

The 17-year-old singer is very upset over the cancellation of the tour.