'Austenland' : An Overdone Jane Austen Valentine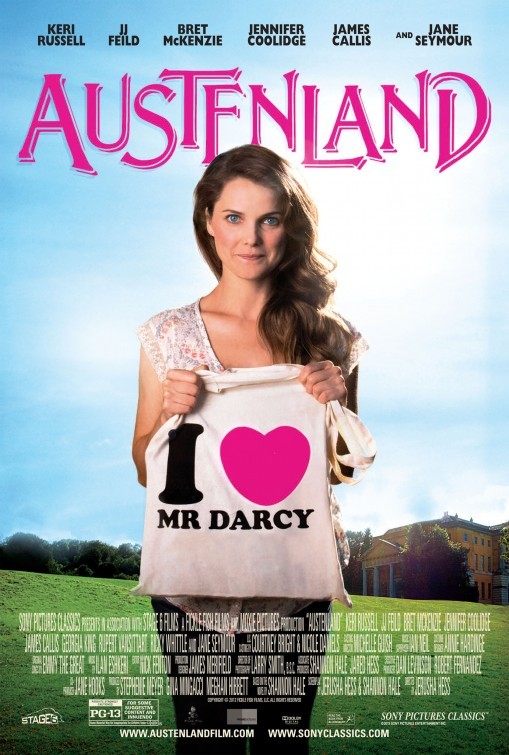 'Austenland' is an overdone Jane Austen valentine.  It's frothy, fun yet disappointing. Why are literary adaptations never as good as their source material? I love Shannon Hale, the author, and every single chick lit novel she's ever written. 'Austenland' (2007)? Check. 'Midnight in Austenland' (2012)? Check Check. 'The Actor and the Housewife' (2009)? Triple check. So, of course, I leapt at reviewing the film adaptation of 'Austenland,' starring my favorite 90s heroine, Keri Russell. Unfortunately, like most literary adaptations, the film left me cold.
'Austenland,' adapted by Hale and Jerusha Hess ('Napoleon Dynamite'), directed by Jerusha Hess, and produced by Hale's close friend, Stephenie Meyer, surrounds desperately seeking Mr. Darcy thirty-something, Jane Hayes. She travels to an Austen-styled theme park where she meets two women (Jennifer Coolidge of '2 Broke Girls' and Georgia King of 'The New Normal'). Together, they pursue the Edwardian hotties paid to pursue them. Although the film starts cleverly, mocking Austen enthusiasts, the middle drops the insightful overtones for a straight up Jane Austen love letter. Hess and Hale forgot that most Austenian novels were about the heroine's survival, not the hot men with bulge straining breeches. After 30 minutes, the film became a regency romance starring Hollywood actors. After 15 minutes, I felt over it. Luckily, the film returned to character growth in the final five minutes. Although Hale wrote the screenplay before the novel, the final script lacks the novel's character insight, structure and subplot analogizing the character's self-development with her art.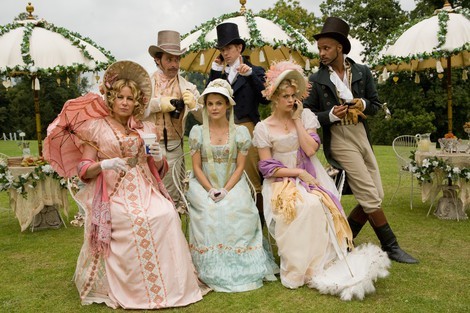 The Cast
Despite playing Felicity for four years, Keri Russell brings honesty and earnestness to the downtrodden female role. Yes, she's professionally pretty, but she throws herself into the part so wholeheartedly, you truly believe she's a contemporary spinster, continuously tossed aside by second-rate boyfriends. Whoever played Jane's sarcastic "you've got to clean this shit up" best friend was hilarious. Jennifer Coolidge went above and beyond my dreams for the Ms. Charming role. Her vivaciousness and charisma brought the character's overdone comedic sensuality and exaggerated American wannabe British-ness to life. Interestingly, Hale always had Coolidge in mind as the character in her original fantasy casting for the novel.
I loved James Callis ('Battlestar Galactica','Bridget Jones' Diary') as the over-the-top Colonel. And, yes, Jane Seymour did an excellent job as the dictator of all things Austen. Unfortunately, the script muddled her character from Austen enthusiast to straight-up snob. Although Ricky Whittle didn't impress me, I've worked at ren faires with characters similar to him. Before any nay-sayers say nay to a 19th century upper-class-snobbing Anglo-African, Maria Edgeworth's 'Belinda' (1803) includes a dashing West Indian love interest; Willliam Thackeray's 'Vanity Fair' introduces Miss Schwarz, a charming bi-racial heiress; an 18th century Anglo-African man, Olaudah Equiano, was an explorer/sailor; and, Austen's own 'Mansfield Park' taps slavery in British society. For the rest of the British cast, I say eh. Bret McKenzie looks hotter in modern clothes than historical ones; JJ Feild was more wooden than necessary; and, Georgia King wavered between pretty girl nympho and walking satire (although, admittedly, hilarious).
The Script
The script's weakness primarily surrounded not clearly defining the characters. With only 97 minutes run-time, I'd rather they spent more time developing the heroine than playing croquet, watching the men in the dressing room or recreating a play within a play. For a female-oriented film, did we really need a five-minute wet dress scene that's an inverse of the Colin Firth lake scene? Is Seymour's character an uber-romantic Austen enthusiast or a romance-less snob? Is Georgia King's character a parody of an Austen heroine, an Austen heroine or a horny enthusiast?  Without any explanation for Seymour/King's personality shifts, I wish they'd spent more time on Jane's personal development.
Final Thoughts
So, should you watch this film? Well, let me ask you this. Do you watch the BBC mid-90s 'Pride and Prejudice' adaptation on repeat? Do you require all your dates to appear at your front door in soaking wet regency period shirts? Do you frequent tea rooms and call 2pm lunch, afternoon tea? Do you have multiple faux-leather copies of Jane Austen's complete works and a well-dog-eared copy of 'Pride and Prejudice'? If so, my answer is yes. You should watch this, better yet, read the novel and wait for the film on DVD. But, if you're an Austen heroine why not go for it? Take your friends, have high tea and watch it for the cotton candy fun. If I hadn't reviewed this film, I probably would've paid ten bucks to watch it. After all, my apartment looks like Jane's and Hugh Dancy is my ideal Mr. Darcy after Colin Firth. And, if you go, stay for the closing credits. Trust me.
Distributed by Sony Pictures Worldwide Acquisitions, 'Austenland' opens August 30 in the states.