'Aurora Borealis' Lights Up The Skies On DVD April 3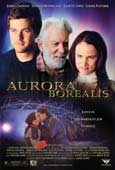 Regent Releasing and Liberation Entertainment announce
Aurora Borealis
, a funny and touching family drama from director James Burke. With a soundtrack featuring music by Minnesota natives
Bob Dylan
and
Paul Westerberg
,
Aurora Borealis
has a message for audiences of all ages. The DVD streets on April 3.
Aurora Borealis is a heartwarming story about a young man who finds romance when he helps his defiant grandfather cope with Parkinson's Disease. Ever since the premature death of his father, 25-year-old Minneapolis slacker Duncan Shorter (
Dawson's Creek
's
Joshua Jackson
) is content with shuffling aimlessly through life, hanging out with his lifelong friends, and ditching one dead-end job after another. Duncan takes a job as a handyman in a high-rise that allows him to be near his gravely ill grandfather Ronald (
Donald Sutherland
), who's more than a handful for his grandmother Ruth (
Louise Fletcher
). That newfound sense of purpose leads to a budding romance with Kate (
Juliette Lewis
) that gives Duncan the motivation to take charge of his life.
"It was a great pleasure working with Donald Sutherland - a legend in the profession - and the rest of the cast," says Joshua Jackson. "The film itself was a highly rewarding experience about life and love that I'm sure everyone will enjoy."
The
Aurora Borealis
special DVD features include Production Commentary, Interviews with the Cast and Crew, an isolated music track, and a Photo Gallery.
-
You can check out a trailer here
(Streaming audio and/or video links may expire without notice)