Aurora Aftermath: Survivor Stories From The Colorado Shooting Tragedy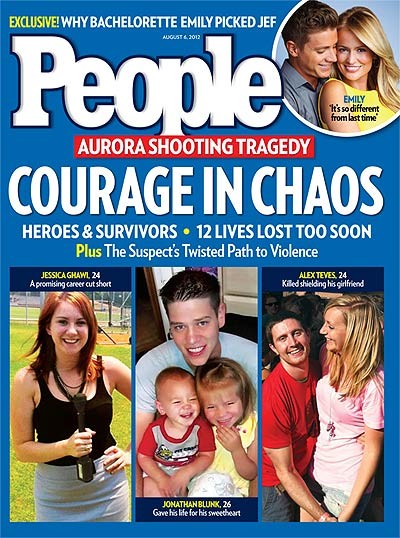 After a gunman's savage rampage at a Colorado Cineplex left 12 dead and 58 wounded, survivors and family members of the victims recall the horrific night in this week's issue of PEOPLE, and pay tribute to the heroes who sacrificed their own lives. In the heat of the attack, many moviegoers pushed through their fear to make their way to safety. "When you hear about things like Columbine (the 1999 high school massacre in nearby Littleton), you wonder, 'How would I cope?'" Stephen Barton, 22, tells PEOPLE. "I decided, 'Now is not the time to die.'"

After he felt his left arm go limp, Barton escaped Theater 9 and asked a group of strangers, "Where am I wounded?" They confirmed a neck wound and offered encouragement. "This incident has shown us the worst of humanity," Barton says. "But it definitely has shown us the best as well."

In some cases, people sacrificed their lives to shield loved ones. Alex Teves, 24, took a fatal bullet to protect his girlfriend Amanda Lindgren, 24. "I lost my first-born son," says his dad, Tom Teves, 52. "This has got to stop." Jonathan Blunk, 26, pushed his girlfriend Jansen Young to the ground and under a seat and then covered her exposed body with his body. When the shots stopped and Young, 21, wriggled free, she found Blunk lying in a pool of blood. "Jon did this because he loves me," she says tearfully. "All I can think about is all the things I'm not going to be able to do with him."

The tragedy has left others wondering whether a trip to the movie theater is worth the risk. After escaping Theater 9 unharmed, Paul Otermat, 26, accepted a free ticket to The Dark Knight Rises at a different theater. "I looked at the exit about 50 times during the movie," he says. "But by the end, I was just watching a movie." Naya Thompson, 21, who escaped safely, says she still really wants to see the movie, but not "anytime soon."

As for Christina Blache, 29, she's not thinking about movies, and she's trying not to dwell on the injuries in both knees that keep her in the hospital. She says, "I'll forgive [the shooter] some day, just not right now because of what he has done to people I care about."

Dr. Jodie Taylor, 40, trauma surgeon at the Medical Center of Aurora, recalls the scene that night as 18 patients flooded into the ER. "Our third patient was almost dead," she says. "I actually started operating in the ER because she had a gunshot wound to the chest. I opened her up quickly and realized it was her lung, which is better than the heart." Throughout the morning hours Taylor and four other surgeons worked in a full sweat, dispatching nurses – some of whom came in after seeing the news "without being called," she says – operating and going through dozens of units of blood. "Everybody was doing something," says Taylor. Two days after the shooting, only five patients remained. But for all of them, she says, the wounds – especially the psychological ones – will take a long time to heal. "It'll be some time before it all sinks in."


More tales from the heroes and survivors of the Aurora shooting tragedy are featured in the 8/6/12 issue of PEOPLE, on newsstands everywhere now. Go get this issue now and read it.


*Also In This Week's 'People'*
Exclusive – Bachelorette Emily Maynard On Jef Holm: "I'd Marry Him Tomorrow"
Sigourney Weaver: "I Was Told At [Yale] Drama School That I Had No Talent"
Last TV Show Lisa Kudrow Watched: "A Marathon Of Homeland. It's Unbelievable"