Audrina Patridge Talks About Her Shocking 'Dancing' Elimination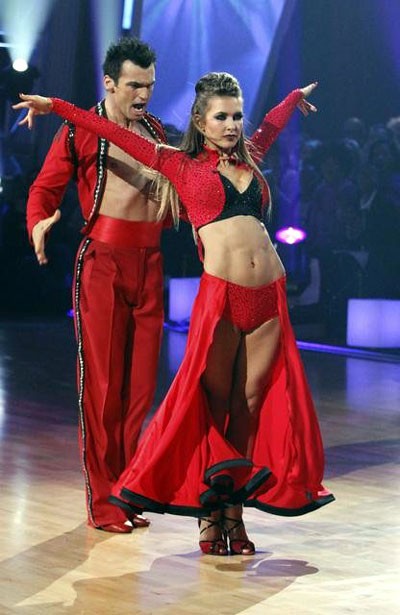 Sadly, the ultra-sexy and sweet Audrina Patridge got the ol' heave-ho from "Dancing with the Stars" Tuesday night.  Alongside professional partner Tony Dovolani, she talked to Jimmy Kimmel about the reality competition's most surprising elimination this season.
"We're still in shock right now," said Patridge, star of MTV's reality show "The Hills."
"There's no way you should have been voted off tonight," Kimmel replied.  "Did Heidi and Spencer have anything to do with this?"
Patridge and Dovolani were strong competitors this season, which is the top-rated show's eleventh.  Last night, the two were the second highest-scoring couple, but were voted off when the judges' scores were combined with viewer votes.
Kimmel ribbed Dovolani, reminding him that he's been on "Dancing" for ten seasons and has never won: "That's bad luck, man."  He went on to call Dovolani the "Susan Lucci of the Paso Doble."
Patridge spoke of her nerves as she stood on stage, waiting for "Dancing" hosts Tom Bergeron and Brooke Burke to reveal her fate on Tuesday's results show.  It was down to Patridge and Dovolani and frontrunners actress Jennifer Grey and pro Derek Hough.
"My heart was just beating faster and faster.  I heard Tony say, 'It's us,'" Patridge said.
Patridge said that the judges' recurring criticisms included her lack of aggression and emotion in some her performances.
"The Paso Doble's very intense and aggressive, and that's what I tried to be," she said.  "That's what we worked on all week."
Last night, they danced the Paso Doble to, ominously enough, Queen's "Another One Bites the Dust," and earned 24 points out of a possible 30.  Later, they placed third out of eight in a dance marathon, earning an additional eight points.
Although Patridge bested retired NFL quarterback Kurt Warner (who came in dead last in scores) by ten points, it wasn't good enough to save her.
Also remaining in the competition are singer Brandy, retired NBA forward Rick Fox, Disney Channel actor Kyle Massey and Sarah Palin's daughter and teen activist, Bristol.
"Carrie Ann told us a lot of intermingling occurs," Kimmel said of backstage romances, and asked if there were any flings this season -- including one between Patridge and her partner.
Patridge said that Dovolani (who's married with kids) is "like an older brother."
"We've become very good friends," she said.  She added that he'll appear on her upcoming reality show, a new series that was recently picked up by MTV.  It'll be overseen by "Survivor" producer, Mark Burnett.
"Do you think the Tea Party had a role in ousting you from the show?" Kimmel joked, probably alluding to Patridge leaving "Dancing" before Bristol Palin, who had typically been given lower scores compared to Patridge's relative high ones.
"We'll leave that to CNN to analyze," Kimmel added.
Click for more great Audrina Patridge pictures: