Audrina Patridge Shows Off Sexy Bikini Body At Her 27th Birthday Pool Party In Vegas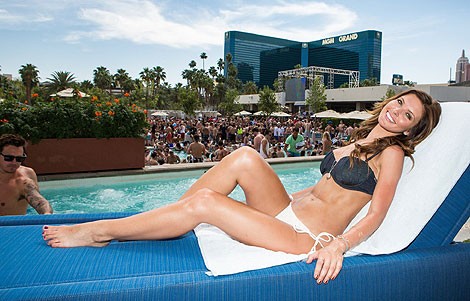 Sun kissed and fresh from her vacation in Cabo San Lucas, Audrina Patridge continued her 27th birthday celebration with bikini-clad partygoers at Wet Republic at MGM Grand Saturday afternoon.

The bronzed beauty along with 10 of her closest friends, including boyfriend professional BMX rider Corey Bohan, arrived at the Vegas pool party destination at 1 p.m. After settling in their VIP bungalow, the group immediately got the party started by ordering a round of cocktails, champagne and tequila shots. Known for having a stunning svelte body, Patridge became the center of attention as many fans gazed over to get a glimpse of the reality star when she stepped out in her bikini by Billabong and heart-shaped shades. With the sun blazing and the Vegas temperatures reaching nearly 100 degrees, Patridge and friends hopped in their private pool to cool off. The brunette beauty floated on a pink inner tube while sipping on champagne as she enjoyed the day under the sun. Paying most of her attention to her beau Bohan, the cute couple was seen being extremely affectionate as they stayed close to one another and exchanged kisses for all to see.

Later in the day, Patridge was presented with a three-tier purple and pink birthday cake while her friends wished her a "Happy Birthday." Splashing around in the pool with her hands in the air, the young Hollywood star embraced turning another year older and spent the rest of the afternoon swimming, partying and drinking.