Audrina Patridge, Justin Bieber, And Joan Collins In The Silliest Celebrity Feuds Of The Week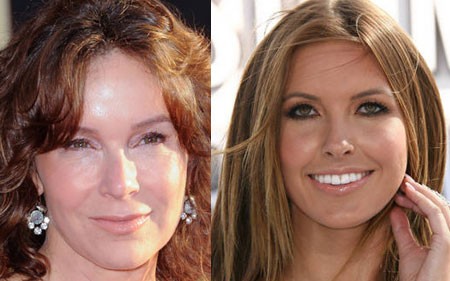 Sometimes celebrity feuds start because someone wants a little PR, and sometimes it's because they just don't like each other. However, to people like us these feuds are just funny - here are some the of the silliest celebrity feuds recently.
Competitive feuds are bound to happen, especially on a show like Dancing with the Stars. However, Hollywood Life reports that a feud between Audrina Patridge and Jennifer Grey is just heating up. "There is certainly something brewing — they aren't full fledged enemies quite yet, but Audrina is certainly taking it as a challenge that Jennifer is pretty much the front runner," the insider said. Being fake nice to someone can only last so long, so it could be only a matter of time before the claws come out.
Joan Collins spoke up and dropped a bomb on Jennifer Aniston. When talking about the best-looking women in Hollywood, she told Hello! Magazine "I have to say, there aren't that many good looking actresses around today. I mean, there's Angelina Jolie and there's... Angelina Jolie. Jennifer Aniston is cute, but I wouldn't call her beautiful." Ouch!  
Finally, Justin Bieber took on New England Patriots quarterback Tom Brady in a battle of... hair? "Sack like a sacker, Call up Mr. Brady, Tell him leave his hair to the guy that sings Baby," raps Justin Bieber in a song. Something tells us Tom won't be headed to the recording studio to record a response.