Audi's New Super Bowl Ad Takes Care Of The Vampire Problem (Watch It)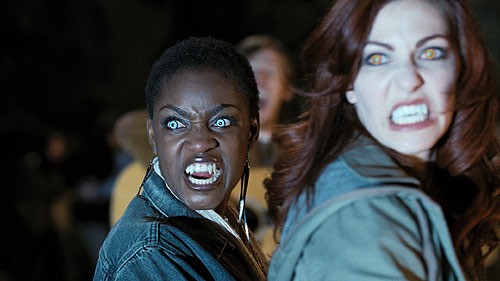 Move over Buffy, there's a new Vampire Slayer in town - Audi.

The auto manufacturer just released their 60-second Super Bowl ad a little early, and they've taken care of eradicating that nasty pop culture vampire problem we've had for nearly the past decade.

It seems as though Audi's new LED headlights, the focus of the new campaign, might make bloodsuckers like Edward Cullen sparkle a little more than they'd like to.

The new ad, which is set to debut on television during the first break after kickoff of Super Bowl XLVI, was unlocked early by Facebook fans via a unique social media contest.

In the promo, the all-new 2013 Audi S7 arrives at a vampire party in the middle of the woods and sheds a little too much light on the partygoing undead.

"Given the power of the Super Bowl platform, we wanted to create an entertaining spot that clearly focused on our LED headlights -- one of our key product attributes – while also sparking conversation about whether or not it's time for us to move on from the omnipresent vampire trend into something new and even more exciting," said Audi's Chief Marketing Officer Scott Keogh.

Echo & the Bunnymen's single "The Killing Moon" is featured in the ad, and it's not the first time they've been associated with the genre. The band covered The Doors classic "People Are Strange" on the soundtrack to 1987's The Lost Boys.