'Audiences Love' Lindsay Lohan, Says Lifetime Exec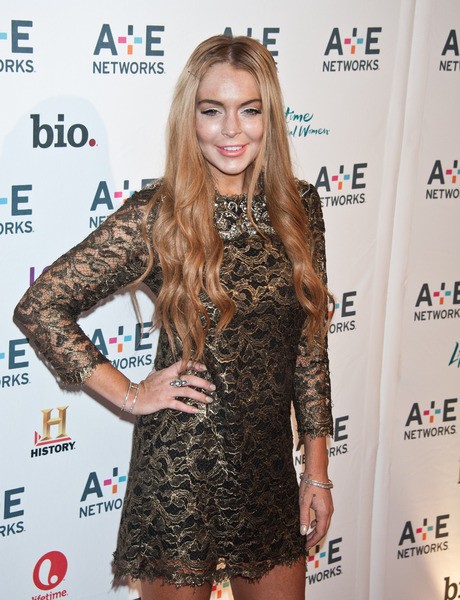 Lindsay Lohan attended A&E Network's 2012 Upfront event at Lincoln Center in New York City on Wednesday wearing a black and gold lace dress. She pulled back her reddish blonde hair with a single bobby pin.
She stars in the upcoming film "Liz & Dick" about Elizabeth Taylor's relationship with Richard Burton. Lifetime exec Nancy Dubuc told Access Hollywood that the actress had no problem convincing the network she was perfect for the role.
"What she said just embodied the story of 'Liz & Dick,' and really you could see in her heart and in her mind that she wanted this and that she wanted a chance to do it," exlpained Dubuc, President and General Manager of Lifetime Networks. "Obviously, audiences love her and… she's clearly going to drive a lot of viewers to this movie and so, of course, we want to be able to give her that platform and we're thrilled that we can."
But not everyone thinks Lindsay is right to play Liz. Rosie O'Donnell made headlines in April for saying on the "Today" show, "I feel very sorry for her. I think she needs a lot of time away... She's had a lot of trouble doing every single movie, including SNL (Saturday Night Live). She was out and not in rehearsal. I think she's not in a place to work."
See more photos of Lindsay...