Attack Of The Show's Candace Bailey Talks About Her Hosting Gig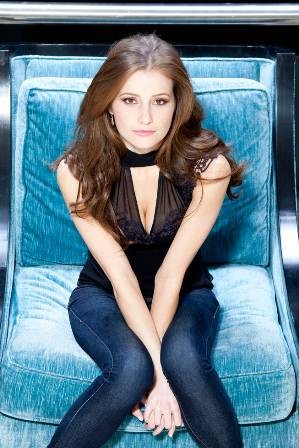 Former Junior Olympic Gymnast and Nickelodeon host, Candace Bailey, landed a huge gig on G4's Attack of the Show last year which put her on the map in the entertainment world as well as in the mind of every guy in America. She spoke with Starpulse about the show, her summer plans and what's up next for her.
Starpulse: What do you think it is about Attack of the Show that makes it so popular with viewers?
Candace: I think that when the show comes on, the viewers see us as people they can just hang out with. We are very real and honest and raw.  We try to make the audience feel like we are all in a room, just goofing off and having fun together. On top of that, each show is very unique, and filled with loads of information on all kinds of topics.  I think that's why they come back.

Starpulse: How did you land the hosting gig?
Candace: I honestly think it was just the right job at the right time. I hosted a live show for Nickelodeon years back, and think that experience helped me for this show. I first auditioned for AOTS, then had a callback and then a test. From there, I worked on a few packages, did The Feed segment of the show, and eventually guest hosted. When they were looking for a new host to replace Olivia, they did week long tests, where we would come and host the show with Kevin (to see our chemistry and if we were what they were looking for). The waiting process felt like forever, but one day I got a call and found out I got the job!
Starpulse: Do you know how many people you beat out for the gig?
Candace: I honestly don't. I know there were a handful of girls they were looking at...but not sure exactly how many. The great thing about our producers and talent department, though, is that they tried to find other places and projects for the girls who weren't right for this particular role.


Starpulse: What is the most challenging part about your job?
Candace: The live aspect is the most challenging, because you really never know what could happen. But that's also what makes it the most exciting part.
Starpulse: Tell me about the Nickelodeon show you had prior to AOTS.
Candace: It was called U-Pick Live. We filmed it in a tiny conference room/turned studio in New York.  We used to describe it as a mix between SNL and TRL (but we played cartoons instead of music videos).  I hosted the show, along with Brent Popolizio. We had so much fun on that show too! We always did wacky stunts, had celebrity guests, etc. It actually reminds me so much of Attack of the Show, but obviously for a much younger audience. I was on the show for three years, and then moved out to LA.
Starpulse: How does your gymnast background help you in this business?
Candace: A lot, actually. In this business, it's all about what makes you stand out from everyone else. Even if the gymnastics doesn't help me land a job, it's always something I have up my sleeve that I can pull out if needed. Growing up in the industry, I booked so many commercials (when I was a kid) because of my gymnastics background.
Starpulse: What is your favorite old school video game?
Candace: I Love Mario Kart!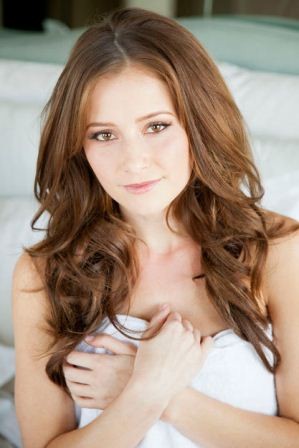 Starpulse: Do you have any exciting summer plans?
Candace: Well, as far as the show goes, we have E3 and Comic Con, our two major conventions. We do live shows from the floor. Comic Con has been my favorite time on the job up to this point. I'm really looking forward to it this year. And as far as personal life goes, I have a BUNCH of friends getting married this summer....so it's going to be one wedding after another. Also, this May is a big birthday for me. So I'm going to be celebrating with close friends and family.
Starpulse: What was the last thing you Googled?
Candace: Home decorating items.  Haha, I know, kind of lame. I just moved into a new place and have too much space and not enough furniture....so I'm constantly looking up what to buy next.
Starpulse: What is your favorite thing to do in your downtime?
Candace: I'm such a homebody. I love hanging out with my family (both my brother and sister live in LA) and close friends.  Just having them over for dinner and talking the night away is one of my favorite things to do. I have two little dogs that I love more than anything, so they get a lot of my time and affection. Also, I love catching up on my shows. My favorite is if I have a whole season on DVD, or a marathon that I can watch all in a row.
Starpulse: What's up next for you?
Candace: Well, I plan on working on AOTS for a while, so that's where I'll be for now. In the meantime, I'd love to do more acting again, and try my hand at other hosting gigs. I kind of want to do it all.  But for now, I'm just enjoying where I am, and seeing where it takes me next.  Oh!  I'm going to be working on a video game, which I can give more details, once everything is worked out, and I'm doing a column for Men's Fitness magazine on gadgets, starting in June. So people can check me out there!