Atlanta Police To Investigate Tyler Perry's Claims Of Racial Profiling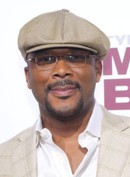 Georgia police have launched an investigation into actor/director Tyler Perry's claims he was racially profiled by two white cops during a recent traffic stop.

The Diary of a Mad Black Woman star took to Facebook.com to recount his recent brush with the law, alleging he was pulled over in Atlanta after making an illegal turn and reprimanded for having tinted windows.

But Perry admits the incident quickly turned hostile.

He wrote, "I know that there are many great officers, patrolmen and security guys out there. I am aware of that. But although we have made significant strides with racial profiling in this country, the world needs to know that we are still being racially profiled... RACIAL PROFILING SHOULD BE A HATE CRIME INVESTIGATED BY THE FBI (Federal Bureau of Investigation)!!!"

According to the post, the filmmaker was eventually let go once a black officer pulled up to the scene and recognized the star, but, Perry's allegations have now prompted police officials to launch an internal probe.

Atlanta Police Department chiefs, who confirmed two officers encountered the funnyman during a traffic stop in March, released a statement to CNN, which reads, "Mr. Perry's concerns, as recently expressed by him publicly, will be the basis for referral of the matter to the department's Office of Professional Standards. OPS has opened an investigation to determine if Mr. Perry's claims can be substantiated, and whether any departmental policies or procedures were violated during the stop."