Athlete and Celebrity Couples: What Draws Them Together?

Peanut butter and jelly, spaghetti and meatballs,
Punky Brewster
and mismatched Converse. Some things just go together, like the perennial pairing of athletes and starlets. Why do the athletically inclined always seem to end up with Hollywood's prettiest young things? There must be something aside from the obvious draw of bulging biceps, movie premiers, and the thrill of evading the paparazzi.
The athlete/starlet combination is hardly a new one. Perhaps the most well known, and most romanticized, incarnation took place when
Joe DiMaggio
fell in love with
Marilyn Monroe
. Even though they had divorced, DiMaggio frequently sent flowers to Monroe's grave, right up until his own death. Another couple that occupied the public spotlight for several years was
Brooke Shields
and
Andre Agassi
. With matching flowing locks of hair, they sashayed through the eighties straight to the altar. Like so many other famous couples, though, they went straight for divorce not long after. Another slightly older pairing was decathlete
Bruce Jenner
and actress
Linda Thompson
. That short lived union gloriously resulted in
Brody Jenner
, star of the upcoming reality show "Bromance," and frequent player on "
The Hills
."
While some of these couples had long relationships, at least by Hollywood standards, others existed for what seemed to be just one night. Remember when a high school aged, just drafted
Kobe Bryant
escorted newly minted R&B star
Brandy
to his prom? They looked like the perfect young couple, despite rumors that they barely knew each other.
Carmen Electra
and
Dennis Rodman
also had a famously brief, and rocky, union.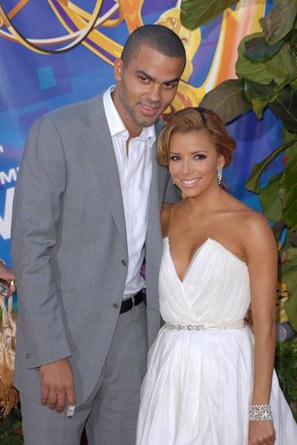 These days, there must be something in the water (or the Gatorade), as it seems like athlete/starlet couples are popping up on every magazine cover.
Eva Longoria
and
Tony Parker
,
Hilary Duff
and Mike Comrie, and
Kim Kardashian
and
Reggie Bush
have all garnered attention. For some athletes, dating just one beautiful and famous woman isn't enough. Tony Romo was with
Carrie Underwood
before
Jessica Simpson
ever put on a pink Cowboys jersey. Before
Lance Armstrong
spent the summer with
Kate Hudson
, he was engaged to
Sheryl Crow
, and was rumored to have been involved with
Ashley Olsen
in the interim.
Perhaps the most glamorous current coupling is quarterback
Tom Brady
and legs-for-days herself, supermodel
Gisele Bundchen
. Although she may not qualify as a starlet, per se, any discussion of athletes and beautiful women would be incomplete without mentioning Bundchen and her connection to Brady. His all American good looks and athletic prowess combined with her Brazilian body, sparkling personality, and ridiculously large paychecks are almost enough to cause the earth to stop for a split second. It's also worth noting that Brady appears to have left another gorgeous woman, his baby mama and actress
Bridget Moynahan
, to be with Bundchen.
So why do the beauties of Hollywood gravitate to the brawn, time and time again? Maybe it has something to do with the fact that each can consistently wow the other. An actor dating another actor might be able to say, "That's easy, I can cry on cue, too." An athlete dating an athlete might say, "That's great that you won the World Series, honey, kudos. You can put your ring next to my two U.S. Open trophies. It's great you're finally starting to catch up." There is potential for boredom, a blasé attitude about the achievements of the other, or even jealousy.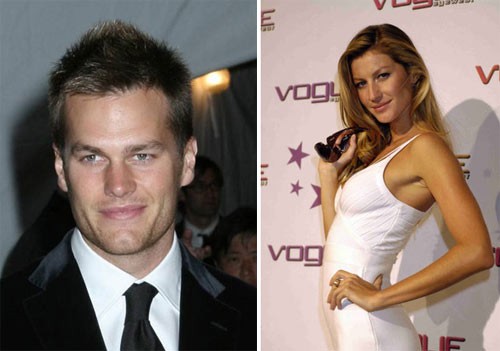 Tom Brady and Gisele Bundchen
When the members of a couple are involved in different, but similarly high profile occupations, though, there is still room for each to be impressed by the other. There is no personal competition, and each gets to achieve the highest echelons of success, but doesn't have to bypass their significant other in the process. Also, as the line between athlete and celebrity continues to blur (
Anna Kournikova
, anyone?), athletes are mixing more and more with the Hollywood set, making access between the two groups even easier. While there may be several possible psychobabble explanations, the simplest one might be this: what is good enough for us non-celebrity mere mortals is good enough for athletes and stars. Maybe they actually just like each other.
Story by
Sarah Levin
Starpulse contributing writer
© 2008 Starpulse.com. All rights reserved. This material may not be published, broadcast, rewritten or redistributed without express written permission from Starpulse.com.