ATF Agents Search Home Of Atlanta Rapper T.I. During BET Hip-Hop Awards

ATLANTA (AP) - Federal authorities searched the home of Grammy-winning rapper
T.I.
on Saturday, hours before he was expected to win big at the BET Hip-Hop Awards being taped downtown.
Agents with the federal Bureau of Alcohol, Tobacco, Firearms and Explosives spent most of Saturday afternoon at the home in East Point, about 15 miles southwest of Atlanta. It was unclear what they were looking for.
A search of property records listed the owner as Clifford Harris, T.I.'s given name. A law enforcement official who was not authorized to speak but talked to The Associated Press on condition of anonymity confirmed it was the rapper's home.
No one besides law enforcement was at the home during the search, officers at the scene said.
The 27-year-old rapper was noticeably absent from red carpet festivities before the show began at 6 p.m., though he was at the center where the show was to be taped earlier Saturday.
Sydney Margetson, a spokesman for T.I.'s label, Atlantic Records, declined to comment Saturday evening.
Saturday was supposed to be a day of revelry for T.I., the co-chief executive of Grand Hustle Records. The self-proclaimed ''King of the South'' won three awards at last year's inaugural BET Hip-Hop Awards and received nine nominations this year, including CD of the Year, Lyricist of the Year and MVP of the Year.
Instead, half a dozen ATF agents were still searching the home well into the night, removing boxes and envelopes from the large, red brick house with white columns and ornate glass windows.
The BET Hip-Hop Awards were taped Saturday and are scheduled to air on Oct. 17 at 8 p.m.
The rapper's sixth album,
T.I. vs. T.I.P.
, was released July 3 and debuted at No. 1.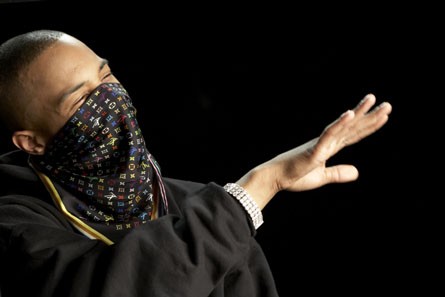 In May 2006, T.I.'s best friend, Philant Johnson, was killed and three others were injured in a gun shootout after a post-performance party in Cincinnati. The killer remains at large, and T.I. was briefly locked up a few days after the funeral on suspicion of failing to perform community service stemming from a 2003 arrest.
T.I. grew up in Atlanta and was selling crack by the time he was a teenager. After years of hustling to launch his rap career, recording demos and flying back and forth to New York shopping for a record deal, his first taste of success came with his 2003 album, ''Trap Muzik.''
But the next year, warrants were issued for his arrest on probation violations for a drug conviction, and he was sentenced to three years behind bars. It wasn't clear Saturday how much of the sentence he actually served.
T.I. hit the big screen in his debut movie, ''
ATL
,'' in March 2006. He has a role opposite Academy Award winners
Denzel Washington
and
Russell Crowe
in
American Gangster
, set for release Nov. 2.
T.I. also appeared in a commercial for Chevrolet in which he rapped and raced alongside NASCAR star
Dale Earnhardt Jr.
He has also won two Grammy Awards.
-
T.I. pictures
___
By ERRIN HAINES Associated Press Writer
Copyright 2007 The Associated Press. All rights reserved. This material may not be published, broadcast, rewritten or redistributed.