At 25, Ashley Greene Is More Interested In Booking Her Next Movie Than Finding 'Mr. Right'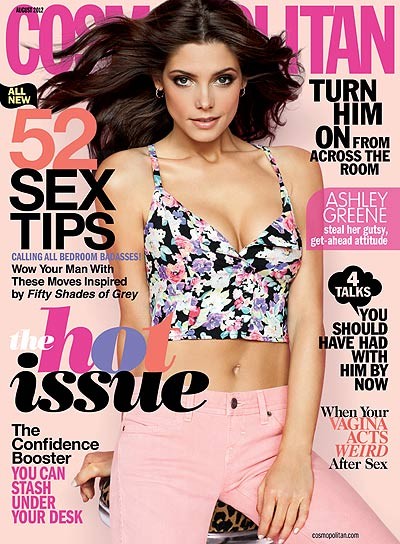 Less than a month ago, Ashley Greene recieved top honors at the 2012 Young Hollywood Awards, landing the Female Superstar of Tomorrow prize.

At 25, the actress is ready to move on from her role as Alice Cullen in the Twilight film saga, which takes up nearly half of her filmography and culminates this fall in The Twilight Saga: Breaking Dawn - Part 2.

But ask her if she's ready to move on in her personal life and she reveals that her career is where she wants her focus for now.

"I'm not one of those girls who sits at home thinking 'By 25, I have to be married'," she says in the August issue of Cosmopolitan. "Right now, I'm like, 'I'm 25, I need to book my next movie!' My parents have such a beautiful marriage. I'm not someone who takes it lightly. So I'm not going to get married until I know I'll be with someone forever."

For now, she's set to star alongside Tom Felton and Sebastian Stan in August's The Apparition; about two young college students who conduct a paranormal experiment that goes wrong, unleashing a supernatural force that thrives on fear.

Ashley's also working hard on 2013's film about famed New York City punk rock club CBGB. She'll play club owner Hilly Kristal's (Alan Rickman) daughter Lisa in the flick, which also stars Malin Akerman as Blondie singer Debbie Harry.

Ashley was most recently linked to Spider-Man: Turn Off The Dark musical star Reeve Carney, but the couple split in February. She's also dated Joe Jonas and Kings of Leon's Jared Followill, but when it comes to guys, she maintains that there's not one specific "type" for her.

"It's about chemistry and a connection," she says. "I've changed so much over the past 10 years. What I wanted when I was 16, I didn't want when I was 20, and that's changed to something else now that I'm 25. Having a type is not for me."

Check out Ashley's full interview and more pics in the August Cosmopolitan, on newsstands July 10.