ASIA's 'Heat Of The Moment' With New Album 'Gravitas'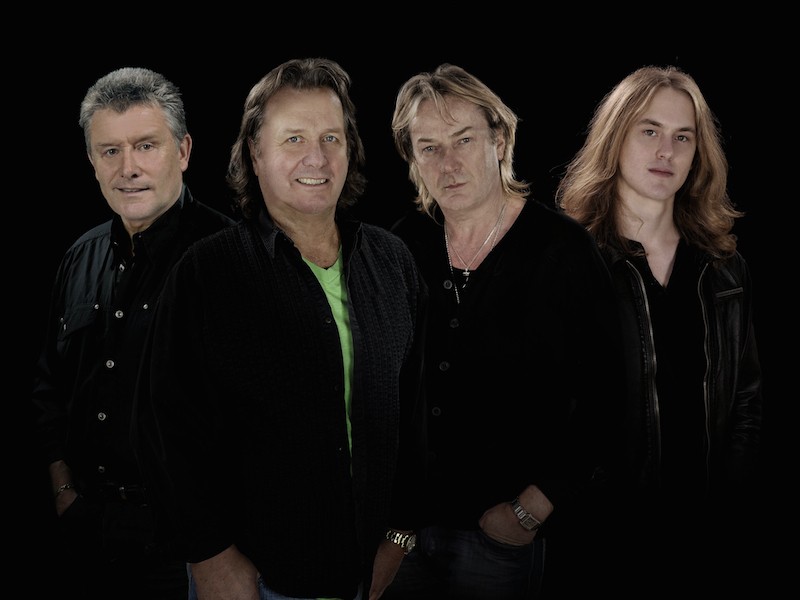 British progressive 80s rock supergroup, ASIA is back with a brand new album, "Gravitas" (Frontiers Records) (derived from the Latin meaning 'dignity.')  It's currently available in four formats as a CD, the deluxe edition with the CD/DVD containing the music video for their track, 'Valkyrie' a CD with a bonus track and a special edition Japanese import.  
Their last album, "XXX" was released last year.  
Asia has announced U.S. fall tour dates in support of their new album with more dates expected to be announced soon! Their current lineup features John Wetton, (bass, vocals), Carl Palmer (drums), Geoff Downes, (keyboards), and Sam Coulson, (guitars).
I had the pleasure of speaking to Asia's lead vocalist and rock legend formerly of the band, UK and King Crimson, John Wetton by phone from his home in London on all things ASIA is planning for 2014! 
"The new album is being very well received and we're amazed because sometimes there's a little bit of prejudice that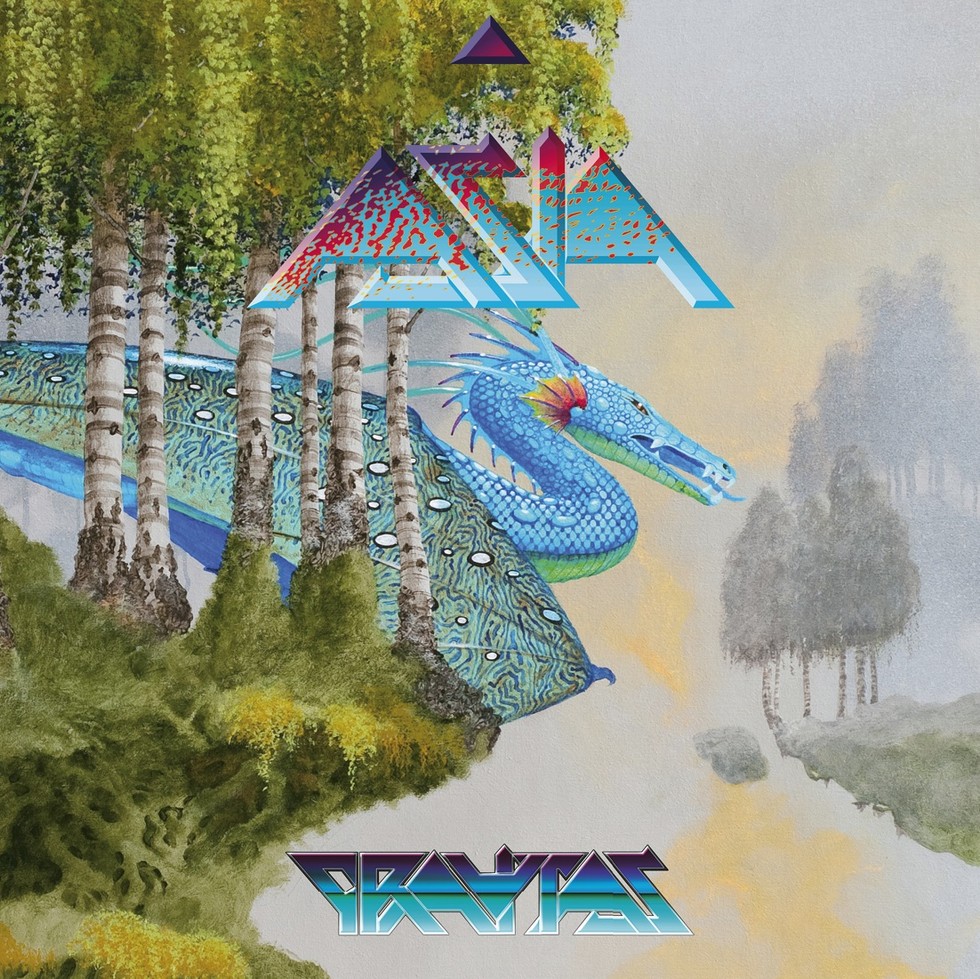 comes with the reviews but the public and the critics have embraced the album so I'm very pleased," declares Wetton in a telephone interview. He adds, "We're also getting very positive results on the charts." These days we don't have singles we have tracks and "Valkyrie" has been played from the record. I don't see us having charted albums like we did 30 years ago but as far as us being an organic band and a touring unit and one that makes records we couldn't be more pleased." 
He discussed ASIA's fall tour. 
"We'll be touring in October for America and we play two dates in the UK on the 11th and 12th of June; then we go straight to Japan for four dates then we tour Europe in September and the U.S. in October. A couple of dates are already on sale. We'll be playing New York City, New Jersey, Pennsylvania, Annapolis, MD, and then Los Angeles. It will be the longest tour of the six weeks, normally we only do four weeks and five weekends." 
Founding member, Steve Howe retired from ASIA in 2013. The band added talented young guitarist, Sam Coulson to the mix. 
"It could have been a catastrophe because he was an original member and if we were to be the original ASIA that was the big exciting thing about us reforming in 2006 and there aren't many bands that have been around for over 30 years that still had the original four members. So that was one of our original cards to play that we were the reunited four original members and to lose one member it could have been catastrophic. It's given the band to enter a new opportunity to enter a new chapter. We did a few shows last summer with Sam playing guitar we did a big festivals, a couple of small shows with Sam in the UK we did a big Harley Davidson Festival in Austria, etc. Sam has never played in America with us so it will be the first time for him. I think he'll go down extremely well in Japan they like the 'guitar hero' there and he fits in the the 'visual' requirements and I think he'll be a big hit because he's a fabulous guitar player he's very young but the age difference does not show too much in the dressing room he has the same sense of humor! It's a good dressing room!" Wetton joked. 
'Gravitas' wasn't the original title of the album. It was 'Valkyrie' which is one of the songs.  Original guitarist, Steve Howe retired from ASIA in 2013. 
"When Steve said that he was leaving, I felt that we just had to 'hit the ground running' and we had to make an announcement 14-15 months ago that said the band is to continue—it has a new guitar player, it's touring again it's making a new record with the backing of the record company and the new album was titled, 'Valkyrie' and I just wanted to look like very seamless and we weren't going to be thrown by this. The end result after recording for six months we decided to switch the title of the album from 'Valkyrie' to 'Gravitas' because there was a feeling within the band that 'Valkyrie' was too feminine so when we had a meeting I stated that I was not too fussy about keeping the title, 'Valkyrie.' I didn't share that opinion but at the same meeting I said, "I have another title which is the next song I'm working on called, 'Gravitas' anyone want that?" So at that time the whole table burst out into high-fives and ok we got it and I said, "That's fine by me." As far as I'm concerned, 'Valkyrie' is where the album began—that was the original idea I had for this album and at that time it was only a title and four chords but it was the original idea and it will still be 'Valkyrie' to me." 
When it was time to replace Steve, John's first choice would have been Steve Lukather, (Toto) and Carl Palmer's choice would have been Paul Gilbert from Mr. Big. So how did their newest member Sam Coulson join the band? 
"We approached both of these guys and they each said the same thing, "Thank you, we're very flattered but we can't." When Paul Gilbert said that, we said we were stuck do you have any suggestions and he said, "Yeah, I've got two suggestions two guys would be perfect for you."  One was an American who was slightly older than Sam and then there was Sam himself who was really a blank page who didn't really have a history; he's young, he doesn't come with any baggage he's not a train-wreck like me— he's a steady, sensible young man, not like me at that age I was all over the shop you know," explains Wetton. "Sam has the personality requirements that we needed. He's fit in really well he did great on the album and we know that he can 'cut the mustard' on stage so we're very confident," John confessed. "The fans love him! So what could've been a calamity actually turned into our favor it's worked for us. Steve was a fabulous member of this band for a very long time he's a great guitar player and I wish him all the best I'm not in the business of trashing people I've worked with because I wouldn't have been on the same stage with him if I didn't think he was that good. Steve is a guitar hero. What Sam does if  he works in the band in the structure of the song he's happy to play unison and rhythm parts and blasts the solos. He wants to be a member of this band so he's got the right attitude spot on." 
The album's namesake is about struggles in relationships. 
"People will identify with this album because a lot of it references personal and emotional struggles in the lyric. The guy in the song, 'Gravitas' is going through a divorce and no one has any dignity. It starts off amicable but in the end people bawling each other out and the protagonist in the song is saying, "Please, please leave me some dignity," John admits. "The song, "The Closer I Get To You" is about disintegration of a relationship and we've all been through that as well. I get responses from people that say, "Oh, that happened to me last year."  
John is inspired and deeply moved by Joni Mitchell's music as the influence for many of the band's songs. 
"When I go to a concert, I want to be moved I want to laugh, cry and expect the artist to take me through every spectrum of emotions if I went to a Joni Mitchell concert that's what I would be doing, I'd be locking into what she does and going through it with her." Joni Mitchell was a big turning point for me when I heard her song, "Blue" in 1971. I switched from writing from third person to first person; it wasn't that easy at first. I was inspired by Joni Mitchell that she had the 'honesty' and she would write stuff that happened to her and not to other people. That's been my kind of keystone ever since the songs I write are intensely personal like the two original ASIA hits, "Heat of The Moment" and "Only Time Will Tell." "Heat Of The Moment" starts off with an apology; where have you heard that before in a rock song? Probably never! Rock and roll is all about being macho, "Fuck You" lyrics  and "Heat of The Moment" starts off by saying, "I've never been so bad to you I'm on my knees." We deal with emotional subjects and we put them on a mattress of beautiful-gorgeous keyboards and vocal layers; we have great guitar solos and we have a drummer (Carl Palmer) that hits drums harder than any other drummer I've known him for well over 40 years." 
The record company (Frontiers) wanted to put the album out in various formats. John recommends the Deluxe Edition. 
"It has all sorts of goodies on it, you get a DVD with the 'Valkyrie' video you get the orchestra bonus tracks it's well worth the extra money plus it's got liner notes from me. It was the record company's idea. These days, you have to work every trick in the book to keep in the business because of diminishing record sales. The way the business is going it's very much dog-eats-dog and we sell almost exclusively CDs and DVDs we don't sell many downloads we're not in that world. We deal with people who want to buy the album, they want to unpack it and read every detail (who plays on the album,who produced it, where it was mixed,etc.) they need those details just the same way I used to be with albums. Our record company gives them what they want and sometimes they'll splash out the extra with the Japanese record because the printing quality is really top notch it's got all those Japanese pictograms all over it and the other choice you'll have is vinyl. They'll be about six formats available. The nine tracks on the album are exactly the same, the only difference is the packaging." 
John returned from Miami recently from the Cruise To The Edge trip. He reunited with his old band, UK and has played with other bands on the side. 
"That warmed things up in the last 18 months (UK band), then I was in King Crimson.  I reunited with Chris Squire of YES on the ship and I did a tour with District 97 of the U.S. and Europe, a young band from Chicago and I think they're great I've played with solo artists in New York City but apart from that, I've been concentrating completely on ASIA—we've been writing and recording and it takes a very long time to do this stuff; it could have been derailed at any time so I needed to keep a firm hand on that." 
When the band formed in 1982, they only played arenas and didn't tour much. They weren't really connected as a band and travelled separately and stayed in separate hotels. Today, the band is very much together and they tour all over the world and formed a very strong, solid bond, catching up and making up for lost time. 
"We're now discovering what it's like to be a real band there's a lot more bonding going on. It would be a lot more difficult to split us up now—we have a lot of resilience and love in the band. It should have been like that in the first place." 
ASIA is looking forward to heading out on tour and seeing their loyal fans. 
"We're looking forward to seeing all of you again, we can't wait. I think you'll be really pleased. Come along and enjoy it!" 
Follow ASIA here: