Ashton Kutcher's New Bachelor Pad Is Awesome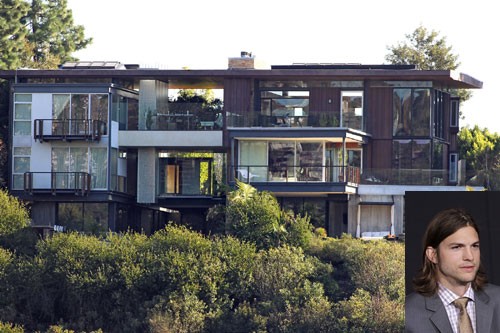 Newly single Ashton Kutcher just rented a nearly 10,000-square-foot architectural masterpiece in the Hollywood Hills. It was listed for $50,000 per month. Apparently his "Two And A Half Men" paycheck can take care of that! He also stars in the upcoming film "New Year's Eve."
Ashton's new five bedroom, eight bathroom contemporary home has walls of glass that are fully retractable, merging the interior living space with the outdoor living space.
Amenities include:
-a floating dining room area that opens to stunning views
-gourmet kitchen
-private screening room
-wet bar area
-gym/massage room
A variety of outdoor spaces include enclosed gardens, outdoor rooms, an infinity pool, cantilevered decks and an open sky terrace.
Ashton and Demi Moore announced their plans to divorce last month.