Ashton Kutcher Talks To Men's Health About Relationships & Failure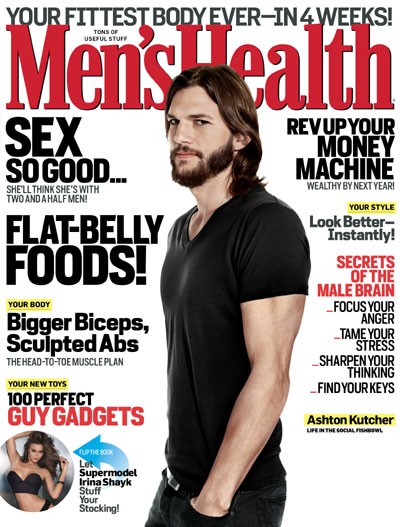 "Two and a Half Men" star Ashton Kutcher is on the cover of the Men's Health December issue (on newsstands Nov. 22). He opens up about what scares him and relationships.

He explained, "I'm relatively scared of failure. But I just don't see it as something that's inevitable."

Additionally, in the December issue of Women's Health (also on newsstands Nov. 22), the actor dishes on relationships:

What's the best relationship advice you've ever been given?

"I think it's all about working on the relationship and making it better…when it's good. Don't wait for a problem to work on things. The goal is not to get into a relationship; the goal is to be in a relationship."

Finish this sentence: I could never be with a woman who…

"Wow, that's tough. I could never be with a woman who felt like she needed to change me."
And in the candid chat, Kutcher tellingly admitted his lack of listening skills has always been a problem. He adds, "I would just like a woman someday, somewhere, at some point in my life to say to me, 'You're a great listener.' Haven't heard it yet, and that's a superior compliment to get from a woman. But I'm going to work on it."
Demi Moore just confirmed reports that she plans to divorce Kutcher. The couple - married for just over six years - have been going through troubled times of late after a woman came forward with allegations that she had slept with Kutcher on their September 24th wedding anniversary.
Kutcher also confirmed the split with a short message on his Twitter page: "I will forever cherish the time I spent with Demi. Marriage is one of the most difficult things in the world and unfortunately sometimes they fail."