Ashton Kutcher: 'I Can't Grow A Mustache. It's Pretty Sad'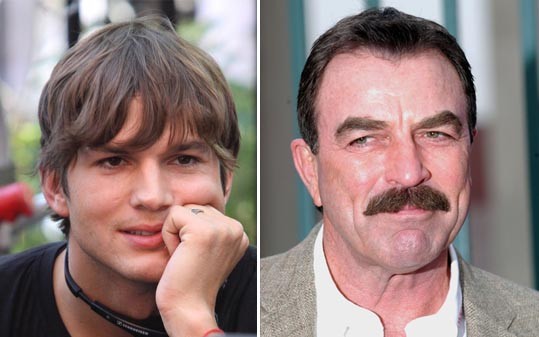 Making his new movie Killers made Ashton Kutcher feel a little bit insecure. In the film, Kutcher faces off against hunky legend Tom Selleck. Selleck plays his tough father-in-law, with that trademark moustache we've known since Magnum P.I. Kutcher tried to level the playing field a little, but admitted defeat.
"I have been trying to grow that mustache since I could grow facial hair," Kutcher said. "I can't grow a mustache. It's pretty sad, if I attempt to."
In the film, Kutcher's character tries his hardest to win over his wife (Katherine Heigl)'s disapproving father. In real life, Kutcher defers to Selleck on the moustache front. "I believe that Tom produces more testosterone in his little finger than I produce in my entire body," Kutcher said. "My face doesn't do that."
There's more to the moustache than just hair though. Kutcher holds it on the pedestal it deserves. "I'm so enamored by Tom's facial hair that I would say Tom's mustache is akin to Chuck Norris' beard. That's a great thing."
See Kutcher's scruff face off against Selleck's moustache in Killers starting June 4.