Ashton Kutcher & Demi Moore Put On United Front, Celebrate Jewish New Year Together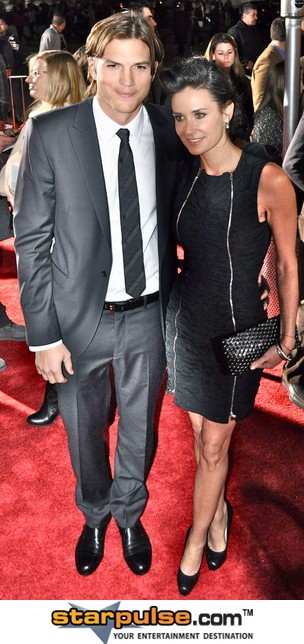 Ashton Kutcher and Demi Moore played down split reports on Friday by celebrating the Jewish New Year together at the Kabbalah Center in Los Angeles.
 
The couple has been dogged by infidelity rumours and stories suggesting its union is under threat ever since Kutcher and Moore spent their sixth wedding anniversary apart, on different coasts, last weekend.
 
Moore fueled the split speculation in New York this week by refusing to talk about her husband on the red carpet at a premiere and then failing to show up at a film launch in Hollywood.
 
But Kutcher took to Twitter to cryptically downplay the rumors on Thursday, directing fans to Public Enemy's "Don't Believe The Hype" on his Spotify.com playlist and then writing, "When you ASSUME to know that which you know nothing of you make an ASS out of U and ME."
 
He also gave fans a visual sign his marriage is still intact during a visit to a Los Angeles motorcycle shop - he was photographed leaving the store with two new bike helmets and he was wearing his wedding ring.
 
There was further proof that the couple is together on Friday morning when Kutcher and Moore attended a Kabbalah service.