Ashton Kutcher And Jon Cryer To Marry In 'Two And A Half Men'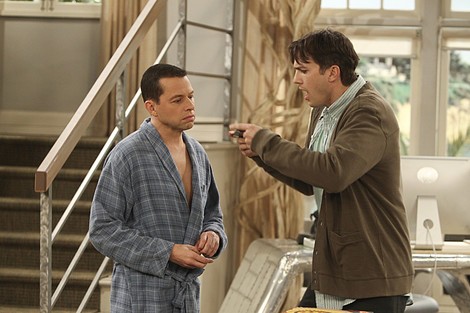 The two men in Two and A Half Men are looking to tie the knot in the upcoming and final season of the show – and there could be a new "half man" involved, as well.
CBS program chief Nina Tassler was at the Television Critics Association summer press tour when she revealed one of the season's plots. Ashton Kutcher's Walden seeks to adopt a child after facing a health crisis, but he finds it difficult to do so as a single man.
At some point, Walden becomes so enamored with the idea of adoption that he and Alan (Jon Cryer) decide to have a false gay marriage so the adoption can go through. Assuming the child is a boy, the show would return to its original state as "Two and a Half Men" for the first time since Angus T. Jones left the show.
Tassler said about the plot, via Hollywood Reporter, "I think it's a very positive statement. 'You know what, I am going to adopt a child as a gay couple. The reality is we can do that.' In a universe where at one point you couldn't do that and now you can do that, I think that's a much more positive statement."
The topic of former star Charlie Sheen also came up, and whether or not his character would make some sort of cameo from beyond the grave. Tassler said there have been no discussions nor negotiations with the actor.