Ashley Tisdale On Her Latest Album And Movie

Ashley Tisdale
shuffled into a meeting room at the Luxe Hotel in Beverly Hills wearing plush white slippers from an upstairs hotel room. A day of press for her latest movie
Aliens in the Attic
did not require red carpet footwear, so she opted for comfort.
Attic casts Tisdale as the older sister of a boy who discovers aliens trying to invade the world via the family's vacation home. While the boy and his cousins combat the monsters, Big Sis deals with her boyfriend, who has been taken over by the aliens via remote control.
The new movie is only part of Tisdale's ouvre. Her second album, Guilty Pleasure, streets July 28 and the single "It's All Right, It's OK" is already out. She's also got production deals for television and more movies. So here's Ashley Tisdale growing up from The Disney Channel, but not too much.
Q:
Are those the hotel slippers?
Ashley Tisdale:
Yeah, you know, they're really expensive actually. My stylist got them for me.
Q:
You're joking but they would actually charge you for them.
AT:
I know, my publicist's like, "Oh my gosh, I can't believe you're walking around in those." They're comfy.
Q:
Would you like us to say they're 9" stilettos?
AT:
Exactly, no one would know.
Q:
What made Aliens in the Attic the right role after
High School Musical
?
AT:
Actually, it was a much smaller part until I signed onto it. They actually made it a lot bigger. I was only there for five weeks, compared they were there for six months. So I went in and I did it and I had a lot of fun doing it. I had a great time with the cast but I thought my action scene at the very end was very tasteful. That was a lot of fun.
Q:
Why was this a role you wanted to take and make bigger?
AT:
Oh, I didn't. They did. I wanted to take the part because she was completely opposite of other characters I've played. Also it was a great movie that I used to love
The Goonies
growing up and I felt like it kind of was a little bit like that. Also, Barry Josephson who produced the movie has produced big movies like
Enchanted
. I completely trusted him with all the CGI work. Obviously I've never worked with CGI before and there were some action scenes in it so I was super excited. The cast was amazing as well.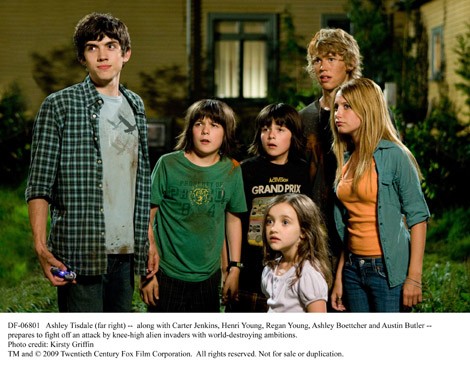 Image © Twentieth Century Fox Films
Q:
It seems the actors from High School Musical haven't had any problem doing different things. Were you ever worried?
AT:
I think that at one time, when we were doing the concert for High School Musical, we thought maybe we could get stuck as those characters just because we were doing three movies and then obviously the concert tours, but we didn't. It's pretty cool. It's fun that we get to do other things and we're very supportive of each other and obviously we're all moving on from the project. It was a lot of fun though. I think that cast is like my family so it was sad to say goodbye to it but I think it was like we were graduating high school again actually, except more emotional.
Q:
Are you happy to keep playing teens or do you want to move up to adult roles?
AT:
I think I'm very young at heart and I look young which is good genes in the family. So I think that for me, I love playing the teenager. I think I'll probably do more. If I'm playing someone in high school, it won't be like a High School Musical movie. It'll definitely be an older maybe more teen oriented movie but I think in this business, once you get to that age where you're the older adult that you're there. You're there for a while and you can't go back. I think that I really want to have a long career so as long as I can play young, I think that young characters are fun. I think they deal with sometimes really serious issues like
Juno
. I love that movie. Yeah, I'll eventually get to that point where I want to play [that]. Not right now. I think I definitely want to do more teen movies and more action films.
Q:
Has acting always been easy for you?
AT:
Acting's never been easy for me. I like it because it's challenging for me. I love comedy because it's challenging as well and I always actually am like my worst critic. I will watch my movie and I'm just like oh my gosh, what was I thinking. Then I have to watch it a couple times and then I start to appreciate what I did but then I'm like you know what? I wish I could've done this differently. I think that's what drives me. No matter how good you are, I think you're always able to learn more at your craft. That's what I'm hoping to do.
Q:
It seems like you're still an individual, not just a brand with all your movies and music. How do you maintain that in this industry?
AT:
I think that I love to work and obviously, music has always been a big part of my life growing up. I did Les Miserables when I was eight years old on the national tour. Obviously High School Musical opening doors and being able to do my own album is awesome. Also acting's always going to be my passion. Then producing is really new for me but it's something that I'm really creative and I like to come up with ideas for shows and movies, especially I don't even have to be in it. I have a producing partner who's really talented and I go in there and I pitch the shows to the networks. I kind of just take on each thing like I put on my producer hat when I go into a meeting like that or then I put on my acting hat. I like to focus on everything 100%, especially if my name is attached to it. I am also someone who treats my work as my job, like everybody has a job every single day and I'm human, I'm normal and I think I'm really grounded just because my family's kept me grounding. I just never was attracted to that kind of usual celebrity kind of thing. I went to regular high school my whole life, I worked in clothing stores so I'm definitely grateful for everything that I have right now but I just like to keep that normal part of my life. Even though there's paparazzi all the time and that's just not normal, I try to ignore it and just go about my life how I'd normally go about it.
Q:
What can we look forward to in the new album?
AT:
The second album, Guilty Pleasure which comes out July 28 is definitely more pop rock than the first one, more guitar driven. I co-wrote four songs on the album. I cowrote with
Kara Dioguardi
from
American Idol
, Toby Gad who did "If I Were a Boy" with
Beyonce
, and I think that is definitely something that's very personal to me. It's a little bit edgier, a little bit more mature. It's definitely a reflection of where I am in my life right now.
Q:
How does making music videos compare to shooting film and TV?
AT:
Music videos, I usually collaborate a lot with my director and come up with ideas. Usually whenever I hear a song, especially the single or I was the one who actually chose "It's All Right, It's Okay" was the first single so I just visualized the video. Me and my director, Scott Spears actually work really well together and we're very creative so with "It's All Right, It's Okay" we worked about a month or two months on it before we actually did the video so there was a lot of thought that went into it.
Q:
What's the next single going to be?
AT:
I think the next single would probably be "Masquerade."
Q:
Why that song and what are your video plans for it?
AT:
Well, "Masquerade," if it is the second single, is about role playing in a relationship so it's fun and edgy and got a good beat to it. I don't know about the video. We don't know yet. It just depends. I mean, they're just making the decision right now on the single.
Q:
Do you have any tour plans?
AT:
Yeah, I think with scheduling other movies as well, I think that it just depends but I would love to go on tour with it. I probably would hit Europe first because the album came out there first and it's doing really well over there so I'd probably go there and then the U.S.
Q:
How did you get into the video for "Love Drunk?"
AT:
That was just a lot of fun actually. I've always been a big fan of
Boys Like Girls
for the longest time, so I met them at Jingle Ball I think a year ago and I was freaking out. I saw Martin the lead singer and I was like, "I'm a big fan of Boys Like Girls." He was like, "I think that was just Ashley Tisdale. I think it's that chick from High School Musical." So we got each other's number just because I visited a radio station and I saw a picture of Martin. I was like, "Oh my Gosh, I love Boys Like Girls" and he was like, "I know Martin really well." So we started talking and Martin was like, "Hey, do you want to be in our video?" And I was like, "Yeah, I'd love to be in your video" because I've always wanted to work with them. "Love Drunk" is a great song. It's stuck in my head all the time but that was a lot of fun. It was just like I got to chill with the guys all day and it was one of those things where like you've always dreamt of because I love that band and just being able to get to know them was really cool and they're really great guys. They're so talented.
Q:
This looks like a weird random fact. Is it true your grandfather invented the Ginsu knife?
AT:
He's not an inventor. He's a promoter of the Ginsu knife. They have invented stuff. My great grandpa invented the plastic cheese grater. Ron Popeil's her cousin, the Set It And Forget It guy. So they're all into the promoting and infomercials. My grandpa's like king of infomercials, so yeah, he promoted it. He didn't invent it. We have all the best, all those knife sets. I have the best kitchen utensils too. I have the Set It And Forget It. Don't set it and forget it, please. There have been problems before. And I actually don't cook which my grandpa said I need cooking lessons. I think my family's very creative on that side too as well, so I think that's probably where all my creative energy came from. I just do something different from that.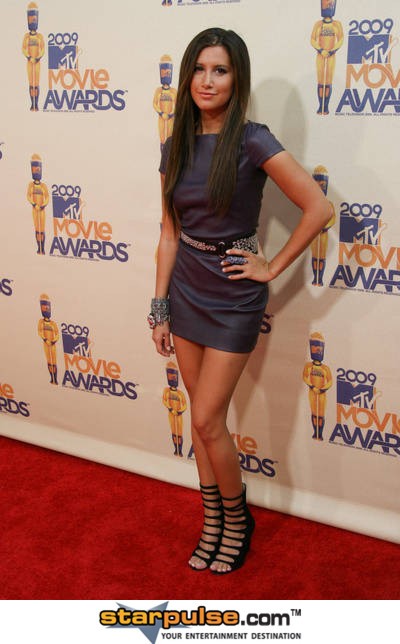 Image © PR Photos
Click the pics for Ashley Tisdale's gallery:
Story/Interview by
Fred Topel
Starpulse contributing writer
(Starpulse in Hollywood)
: Every week, Hollywood's biggest stars are meeting in the hot spots and Starpulse is there.