Ashley Tisdale Did Abs Workout On 'Scary Movie V' Set Between Takes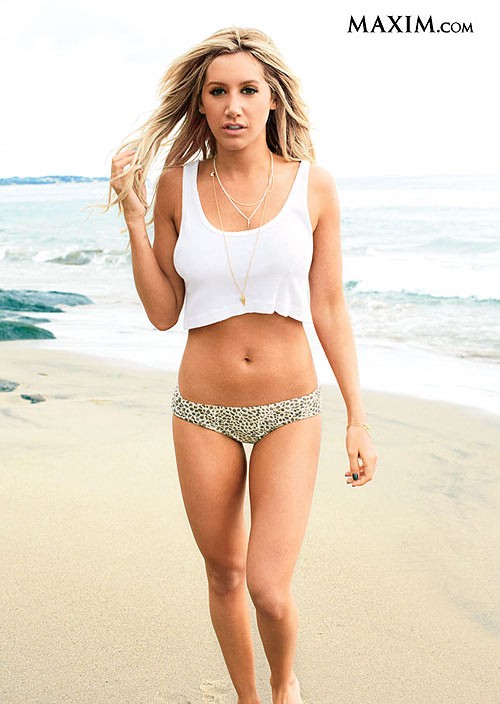 Fresh off her revealing Maxim cover where everyone can see just how fit she is, Ashley Tisdale revealed to reporters that she doesn't deprive herself of treats or work out like a maniac to get that figure. She stars in Scary Movie V, in which she even spoofs the starvation of ballerinas in Black Swan, but that's just a joke.
"I love carbs," Tisdale said. "Unless I have a scene coming up where I'm in not a lot, I definitely will be like watch what I eat, limit the carbs. But I work out and I eat whatever I like. I like pizza and I like ribs. I just feel like living a healthy lifestyle is just like working out and you know. I tend to like healthier stuff anyway, I guess."
Working out only entails a normal amount of fitness for Tisdale. "I work out with a trainer like three times a week, and then I'll do yoga or a hike and stuff like just during the week too, like a 45-minute session with my trainer. There's no way I'd last for two hours."
Tisdale remained fit on the set of Scary Movie V also, in between takes. "We'd always do five-minute abs at lunch, after we ate like a full meal."
Scary Movie V also spoofs movies like Paranormal Activity, Mama and Evil Dead. 
"With each movie that we spoofed, I'd really watch like Natalie Portman in Black Swan, just like on her reactions. The cool part is it all blends pretty well together. So I just felt like on how people are in Paranormal where it's like, 'What do you hear? That's so weird,' and how Natalie Portman was in Black Swan, like she always felt like something was after her. So it just kind of worked all together."
Scary Movie V opens Friday.