Ashley Judd Pays Tribute To Race Car Driver Dan Wheldon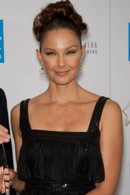 Actress Ashley Judd has paid tribute to late racing driver Dan Wheldon by recalling a John Donne poem and tweeting it to followers on Sunday - hours after the Indy 300 ace was killed in a crash.

Judd was cheering on husband Dario Franchitti at the Las Vegas racetrack on Sunday when Wheldon's car was flipped into the air after hitting another vehicle, before crashing into a nearby fence. He was taken to a local hospital, but died from his injuries.

The actress was left devastated by the events surrounding the 33 year old's death and she took to Twitter.com to share her grief with fans.

She wrote, "As we continue to absorb Dan's accident - we forget, remember, re-experience shock, denial, anger, pain - I'm reminded of a favorite poem.

"DEATH be not proud, though some have called thee Mighty and dreadfull (sic), for, thou art not so, For, those, whom thou think'st, thou dost overthrow, Due not, poore death, nor yet canst thou kill me (sic). From rest & sleepe, which but thy pictures be, Much pleasure then from thee, much more must flow, And soonest our best men with thee doe goe, Rest of their bones, and soules deliverie. One short sleepe past, wee wake eternally, And death shall be no more; death, thou shalt die (sic)."