Ashley Greene Shows Off Her Sexy Legs In A Little Pink Dress At 'The Apparition' Premiere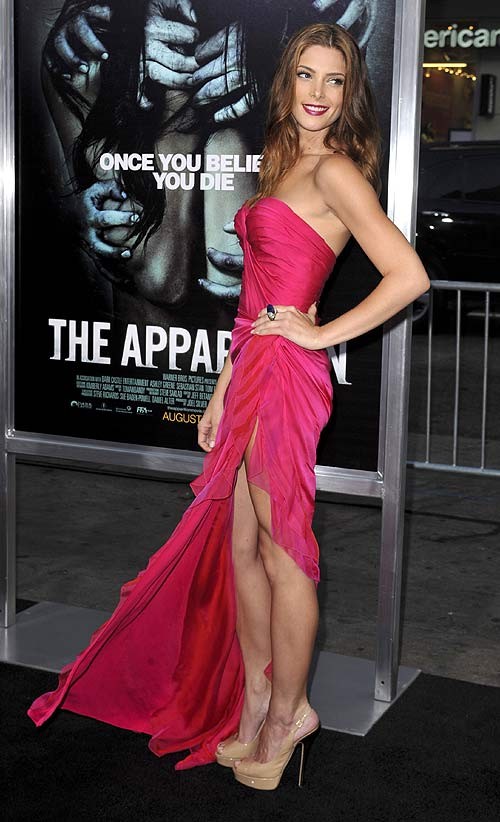 Ashley Greene looked smashing in a strapless pink dress at the Los Angeles premiere of her new film The Apparition at Grauman's Chinese Theater in Los Angeles Thursday night.

The Donna Karan Atelier gown revealed plenty of Ashley's sexy legs with its long slit up the left side. She paired the dress with a pair of Jimmy Choo shoes.

Ashley, who was recently crowned Female Superstar of Tomorrow at the 2012 Young Hollywood Awards, tells NBC Chicago that now that her role as Alice Cullen in the Twilight saga has come to an end she has big plans for her career.

"[T]here are so many things that I haven't done and so many characters that I haven't played," she says. "I'm interested in playing basically every single different character. I certainly want to play a villain at some point because I think that's very fun, and the polar opposite of Alice... I feel like I can now take on those characters without actually having people think [Alice Cullen is] actually who I am, or what I'm like.

"You run in to that sometimes, where people just assume that you're like your characters."

Ashley is so serious about her career that she told the August issue of Esquire magazine that she was partying too much when she was 18, and in her second year after moving to Hollywood she cleaned up her act in order to concentrate on getting work.

"I stopped going out, stopped partying. It was a matter of getting to the work," she says. "I had to focus."

And as far as her love life goes -- well, she's not really interested. The 25-year-old recently told Cosmopolitan magazine that she's more interested in finding her next film role than finding Mr. Right.



See more of Ashley in our list of 10 Sexy Female Celebs With The Best Legs