Ashley Greene Shows Her Sexy Bikini Bod In The December British GQ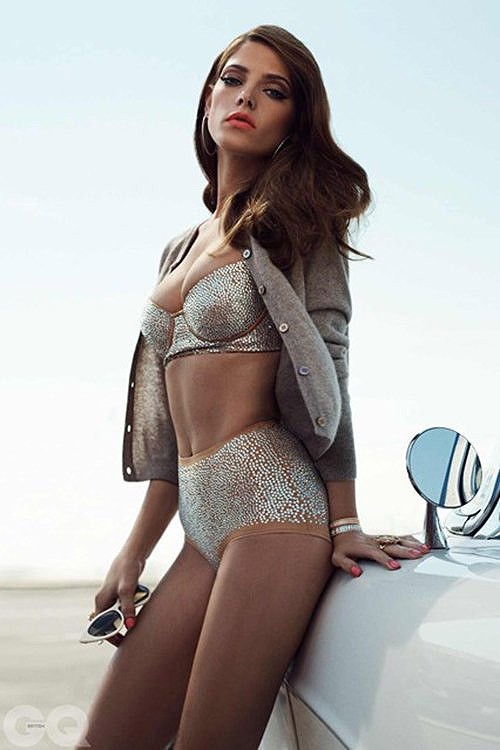 Ashley Greene is set to hit the big screen again next month when the final installment of the Twilight saga, Breaking Dawn - Part 2 hits theaters (Nov. 16).

The sexy 25-year-old also sizzles on the cover of the December issue of British GQ magazine; wearing some hot swimwear for the shoot, including a sparkling silver & nude retro bikini, a black one-piece, and a black bikini for her sizzling cover shot.

Ashley; rightfully dubbed the "Greene Goddess" by the magazine; recently split from her Broadway star boyfriend Reeve Carney earlier this month because of her hectic schedule. It's no surprise though, as she told the August issue of Cosmopolitan that she's not that interested in finding "Mr. Right" right now and is more focused on her career.

But she did reveal in the new British GQ that dating in Hollywood can be difficult.

"When I'm dating a guy and he says, 'I don't want press', and then says, 'Let's go to Katana for dinner' - I'm like, 'Really? You don't want to just walk down the street to some dive?" she says. "You don't want to get photographed but you want to go to a place where you know there's paparazzi?'"

Ashley adds that being a movie star and dating are two things that are very difficult to balance.

"Dating is a hard, hard thing when you have this job. Sometimes I wish I could just go back to Florida and, like, date my home-town boyfriend," she says.

As far as her recent split goes, she told the November issue of Marie Claire magazine that she's learned not to get too serious.

"I'm always here and there - everyone in my industry is - and that's why a lot of relationships are fleeting. I've gotten very good at detaching whenever I have to go away for three months, which I realize is hard on friends and kind of selfish..." she says. "You go on a couple of dates, and then someone ships off to do a movie."

Check out more of Ashley at GQ-magazine.co.uk and in the new issue of British GQ.