Artists Slay The Giant On 'Face Off' - 'Two Heads Are Better Than One'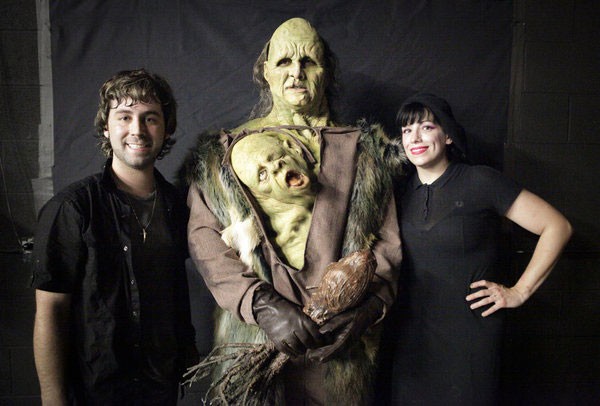 It's a giant of a challenge this week on "Face Off" when the 10 remaining artists are paired up to create an original giant worthy of "Jack the Giant Killer".

After the artists meet host McKenzie Westmore at the giant redwood tree at the Six Flags Magic Mountain amusement park to hear their challenge - create an original giant - the artists spend a little time sketching and getting inspired before heading back to the lab to begin working. Oh, and the giant? It must have at least two heads!

The teams this week are:
Alam and Eric Z.
Kris and Eric F.
Meagan and Jenna
Wayne and House
Autumn and Anthony
Always overly proud of her work, Autumn sees her pairing with Anthony as a vacation this week.

Finding his sketch pad not large enough for his creation, Eric Fox decided to take a piece of chalk and use the lab floor for his doodle pad. Their mold was so large that it required opening the bay doors to get it outside.

Seeing the work of their fellow artists Wayne and House decide to scale things down a bit and create a giant with only two heads instead of three.

Jenna and Meagan find their project has difficulty after difficulty and Jenna continues to have issues with her hands and cannot work; leaving their giant lacking during the reveal.

Host McKenzie comes into the lab with her father Michael for a look at what the artists are doing and to offer some suggestions.

When the models arrive for application day, they are all giants themselves - at least six foot three. During last looks, there is still a great deal of work to be done.

After the reveal judges Glenn Hetrick, Ve Neill, Nevvill Page, and special guest judge Bryan Singer took a closer look before making their remarks to the artists.

Bryan said that he was impressed and blown away by the giants the artists created.

The judges liked what Wayne and House, Autumn and Anthony, and Kris and Eric F. had to offer; but were less than pleased with the creations of Alam and Eric Z. and Jenna and Meagan.

Eric F. and Kris had what the judges called the most ambitious creation and the biggest makeup they had ever seen on the show.

The judges called Alam and Eric Z.'s creation of heads on the giant's feet wretched and a dreadful decision.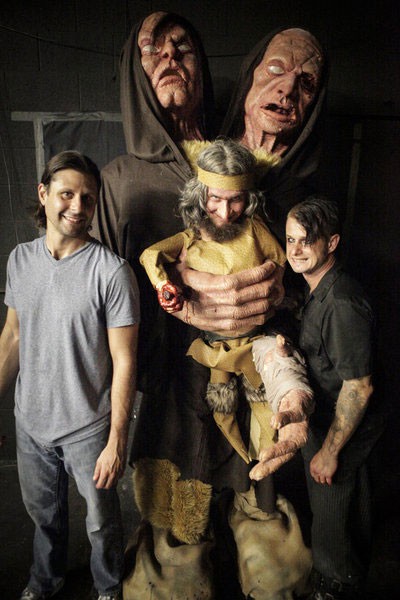 Head judge Glenn Hetrick called Maegan and Jenn's giant a stunning lack of originality with inexcusable mistakes.

After deliberations, McKenzie announced that the top looks were Wayne and House, Kris and Eric F., and Autumn and Anthony with Kris and Eric F. being the winning team.

But since there can be only one winner...

...Eric won the challenge this week.

Eric Z., Alam, Meagan, and Jenna were all in the bottom and facing elimination.

The artist eliminated this week was Jenna. Saying that it broke her heart to admit it but Jenna said it was for the best that she go home.