Arthur Lee Loses His Battle To Leukemia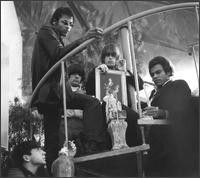 Legendary musician
Arthur Lee
has died. The artist, the frontman and songwriter of critically acclaimed 60s band
Love
, passed away in a Memphis hospital last Thursday after losing his battle with leukemia, aged 61.
His manager Mark Linn said on a Love fan website: "I am very sad to report that Arthur Lee has died. He passed away in the hospital with his wife Diane by his side. This is still very much a shock for me as I had hoped Arthur would recover."
Lee was diagnosed with acute myeloid leukemia at the beginning of the year. His chances of overcoming the deadly disease seemed slim after three sessions of debilitating chemotherapy treatment failed to cure or slow the illness.
In May, he became the first adult in Tennessee to undergo a bone marrow transplant using stem cells from an umbilical cord, but unfortunately the operation did not drastically improve his chances of survival.
Lee formed Love in 1965 and the group released three albums. The band's third LP,
Forever Changes
, released in 1968, is regarded by many music commentators as one of the greatest albums ever made.
As yet no details of a funeral or memorial service for Lee have been announced.