Art Brut Announce Mini September Tour, Including 3 US Festivals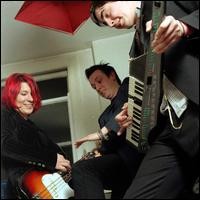 Fresh off their 'Direct Hit' performance on Late Night With
Conan O'Brien
,
Art Brut
return to the US this September for a slew US festivals and a handful of dates in between.
Art Brut are currently celebrating rave reviews to their sophomore release
Its A Bit Complicated
out now on Downtown Records. In honor of this much festive occasion, Art Brut have been touring the world and will return to the US for a very special tour in late Fall.
Click Here to Watch 'Direct Hit'
Click Here to Watch 'Direct Hit' Live On Conan
Art Brut September 2007 Tour Dates
Sep 02 - Sun - Bumbershoot Backyard Stage - Seattle, WA
Sep 03 - Mon - Richards On Richards - Vancouver, BC
Sep 05 - Wed - The Warehouse - Calgary, AB
Sep 06 - Thu - Starlite Room - Edmonton, AB
Sep 07 - Fri - Pyramid Cabaret - Winnipeg, MB
Sep 08 - Sat - The Hideout Block Party - Chicago, IL
Sep 11 - Tue - Key Club - Los Angeles, CA
Sep 13 - Thu - Beauty Bar - Las Vegas, NV
Sep 14 - Fri - The Mohawk - Austin, TX
Sep 15 - Sat - Monolith Festival at Red Rocks - Morrison, CO
Art Brut &
The Hold Steady
Tour Dates - Oct & Nov 2007
Oct 21 - Sun - Lupo's - Providence, RI
Oct 22 - Mon - Roxy - Boston, MA
Oct 23 - Tue - Electric Factory - Philadelphia, PA
Oct 24 - Wed - Disco Rodeo - Raleigh, NC
Oct 25 - Thu - 40 Watt - Athens, GA
Oct 26 - Fri - Bijou theater - Knoxville, TN
Oct 27 - Sat - Newport Music Hall - Columbus, OH
Oct 29 - Mon - Crofoot Ballroom - Pontiac, MI
Oct 30 - Tue - Metro - Chicago, IL
Oct 31 - Wed - Metro - Chicago, IL
Nov 11 - Thu - State theater - Minneapolis, MN
Nov 04 - Sun - HUB Ballroom - Seattle, WA
Nov 05 - Mon - Crystal Ballroom - Portland, OR
Nov 06 - Tue - Warfield Theater - San Francisco, CA
Nov 07 - Wed - The Wiltern - Los Angeles, CA
Nov 08 - Thu - Cane's - San Diego, CA
Nov 09 - Fri - Marquee theater - Tempe, AZ
Nov 11 - Sun - Fox Theater - Boulder, CO
Nov 12 - Mon - Ogden theater - Denver, CO
Nov 13 - Tue - Granada - Lawrence, KS
Nov 14 - Wed - Palladium Ballroom - Dallas, TX
Nov 15 - Thu - La Zona Rosa - Austin, TX
Nov 17 - Sat - BottleTree Annex - Birmingham, AL
Nov 18 - Sun - Variety Playhouse - Atlanta, GA
Nov 19 - Mon - Toad's Place - Richmond, VA
Nov 20 - Tue - 9:30 Club - Washington, DC
Nov 21 - Wed - Terminal 5 - New York, NY
(Streaming audio and/or video links may expire without notice)