Arsenio Hall's Talk Show Helps Him On 'The Celebrity Apprentice'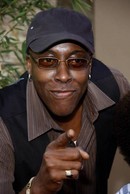 Arsenio Hall is back on TV as a contestant on Celebrity Apprentice. He's got a secret weapon against some of his competitors. If they went on his talk show The Arsenio Hall Show in the early '90s, he's got some ammunition against them.
"I've interviewed Penn Jillette and I had Teller without Penn which was f***ed up," Hall recalled. "Tia Carrera. I think Lou [Ferrigno] was supposed to come and Bill Bixby came without him. Clay [Aiken] was too young. Clay was an embryo."
The process of preparing talk show questions is enough to give Hall some strategies. "If I've done a pre-interview with somebody I kind of know a few bad things about them and I can destroy them in the boardroom."
He won't totally reveal his secrets, but Hall joked about one of his outspoken competitors. "Penn's Achilles heel, I used to like to tie him up and take him to a Baptist church. That really annoys him."
Hall is playing for The Magic Johnson Foundation. This also has a special connection to The Arsenio Hall Show. "When I realized it was the 20th anniversary of the Magic Johnson Foundation, 20 years since he came on my show and made that announcement, I've been on the ground floor of that organization since that night. I was like you know what, this is the time to do Celebrity Apprentice and try to help because he's got a mission going on right now where he's putting mobile testing centers in the inner city and doing a lot of things that help."
The Celebrity Apprentice airs Sunday nights on NBC.