Arnold Schwarzenegger Wants To 'Get To The Chopper!' On Fallon QVC Skit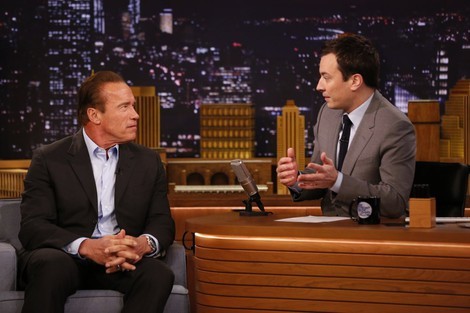 Arnold Schwarzenegger was a guest on "The Tonight Show With Jimmy Fallon" on Monday night, and he and Fallon made a hilarious skit about selling a blender and vegetable chopper on QVC.

"It may sound weird, but when I see a product that I really love, I really get into it. I get behind it. I want it to be successful, to sell it, to market it, the whole thing," the former California governor explained.
Well, he definitely gets into it!

In a segment called "Now We're Cooking With Zach Striker," Fallon introduces a Vitamix blender and "killer" vegetable chopper, which Schwarzenegger takes a special interest in.
While Striker tries to point out all the features on his blender, Schwarzenegger shouts repeatedly, "Let's get to the chopper," one of his famous lines from "Predator."
Finally, fed up with the focus on the blender, Schwarzenegger knocks over the table and quotes "Terminator" with "I'll be back," as they go to commercial break.
Check it out below:
Schwarzenegger's new film "Sabotage" opens in theaters this weekend.