Arnold Schwarzenegger & Maria Shriver: Inside Their Shocking Split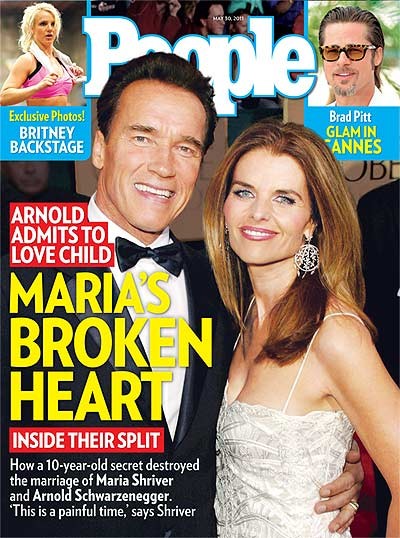 In the wake of her split from husband Arnold Schwarzenegger and revelations about his infidelity, former TV journalist Maria Shriver tries to start over. Perhaps it was always she who was the better actor in this long union of the Political Scion and the Hollywood Star. Because as the world (and even the couple's close friends) heard on the morning of May 17, Shriver, 55, had learned soon after Schwarzenegger, 63, finished his second term as California governor in January that he had fathered a child over a decade ago, whose mother is a former member of their household staff. "This is a painful and heartbreaking time," Shriver told PEOPLE in a statement that day.

Friends of Shriver marvel at her composure. "The magnitude of this betrayal and selfishness knows no bounds," a pal of Shriver's tells PEOPLE. "I imagine her profound sadness that she was lied to for so long right under her nose, in her own house." Adds another friend of the couple's: "I think [Maria] chose to live in that gray area. Unfortunately, this is so black and white."

The mother of the child is said to be a member of the family's staff who retired with severance in January after 20 years of service. Schwarzenegger has taken financial responsibility for the child, and, says a source close to him, an affair is not ongoing. "It was well over a decade ago." Even so, it is a betrayal that is now reverberating from the family, to friends, to those who worked alongside the couple. "They always seemed devoted to and in love with each other regardless of whatever external noise there was," says Jill Eisenstadt, who was Schwarzenegger's LA-based publicity rep from 2000-2006. "[Maria] was a high consideration in everything he did. He leaned on her, she leaned on him, and they laughed a lot. That was the Arnold I know."

Most surprising is that the actor turned politician didn't pull out of the two-month long 2003 special election when reports surfaced about his groping women who had worked for him on film sets; further scrutiny might have turned up this woman and child. Instead, he apologized and let his wife defend him, which Shriver did. "All these [infidelity] rumors came up, and he denied them, and he used Maria to vouch for his character," notes a friend of hers. "To find out that he had been lying about all of it is so upsetting. Things would have been different if the truth had come out earlier and voters had known at the time about his true character."

Adds a source close to the Republican former governor, "He recognized this day would come and was trying to emotionally prepare for it. But you can't prepare for something like this. He's talking to his family. He apologized to each and every one of them [the couple has four children - Katherine, 21, Christina, 19, Patrick, 17, and Christopher, 13]. He's being very forthcoming and hoping to earn their trust back."

How Shriver will respond remains to be fully seen, and the couple have yet to file for divorce. "She is a very religious person," says a friend. "She will spend a lot of time on prayer and recovery." Meanwhile Arnold "is doing the best he can," says a source close to the actor. Despite the admitted infidelity, the couple will continue to support each other, and there will be no fighting over custody. "This is a sad time for her, but Maria will come out okay," says a longtime pal. "She is a strong, resilient person."


*Also In This Week's 'PEOPLE'*
Exclusive Britney Spears Tour Photos: "She'll Perform Like An Athlete," Says Her Trainer
Brad & Angelina Go Glam In Cannes: "No One Compares To Them," Said A Festivalgoer

New Kids On The Block & Backstreet Boys: "We're Grown Men Now," Says AJ Mcclean

New Bachelorette Ashley Hebert: "My Last Real Relationship Ended 4 Years Ago"

Check out the new issue of PEOPLE - on newsstands now!
Click here for all the latest Arnold Schwarzenegger news & articles!
Click for more great Arnold Schwarzenegger pictures: