Arnold Schwarzenegger Inaugurates His Museum In Austria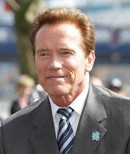 Arnold Schwarzenegger has opened a museum dedicated to his life in the house where he grew up.

The action man-turned-politician jetted to Thal in Austria with his son Patrick on Thursday to dedicate the museum, which opened to the public on his 64th birthday in July.

As part of his duties, the Terminator star unveiled a bronze statue molded in his own likeness.

The renovated home which houses the museum was where young Arnie grew up from 1947 until 1966, when he left the village to compete in the Mr. Universe competition.

On display are the action man's childhood bed, his dumbbells, a sword from Conan the Barbarian and a Harley-Davidson motorcycle used in the Terminator movie.

Schwarzenegger described the museum as a "symbol of will," attesting to the fact that "everyone has a chance."