Arnold Schwarzenegger, 66, Posts Shirtless Selfie On Twitter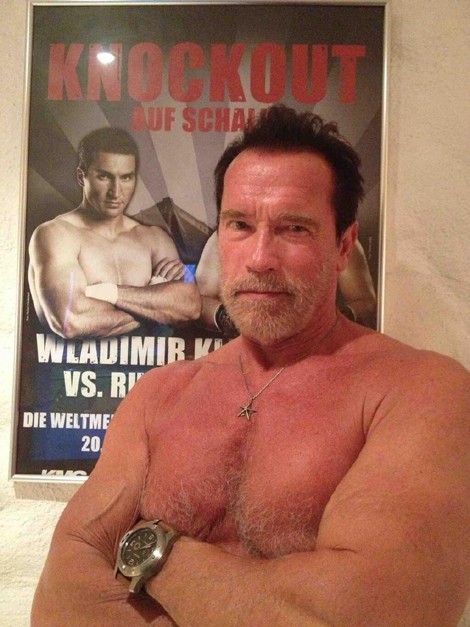 Arnold Schwarzenegger proved he's still in pretty good shape after posting a shirtless image on Twitter over the weekend. The former governor shows off his biceps as he crosses his arms across his hairy chest.
The former bodybuilder uploaded the photo in response to a Tweet from boxer-turned-actor Wladimir Klitschko.
Last week, Klitschko, 37, posted a pic of himself copying Schwarzenegger's classic bodybuilding pose in front of a vintage black and white poster of the action hero.

The 6' 6" Ukrainian star flexes his muscles in the image, which he captioned: ""Ish ... . Lol. Trying to catch u since I'm 12. @Schwarzenegger #stanglwirt"
In response, Schwarzenegger posted a topless photo of himself in front of one of Klitschko's old fight posters. He wrote: "@Klitschko Great shot! It's fantastic to see one of my favorite champions nailing my pose. Right back at you."
Klitschko has appeared in a handful of Hollywood films, including "Pain & Gain," which was just released on DVD and Blu-ray. He is also reportedly engaged to actress Hayden Panettierre.
Schwarzenegger is currently working on "The Expendables 3," "Terminator 5" and "The Legend of Conan."