'Army Wives' Star Joseph Julian Soria Aims To Entertain and Inspire
Lifetime's Army Wives has added new faces for Season 6, including Private First Class Hector Cruz, played by up-and-coming young actor Joseph Julian Soria. It hasn't been an easy road for Hector, as he's fought with wife Gloria (Alyssa Diaz) only for her to discover his affair with another woman, and now they're on the path to divorce. With just three more episodes left in the season, there's more drama headed their way...and I recently caught up with J.J. to ask him about it!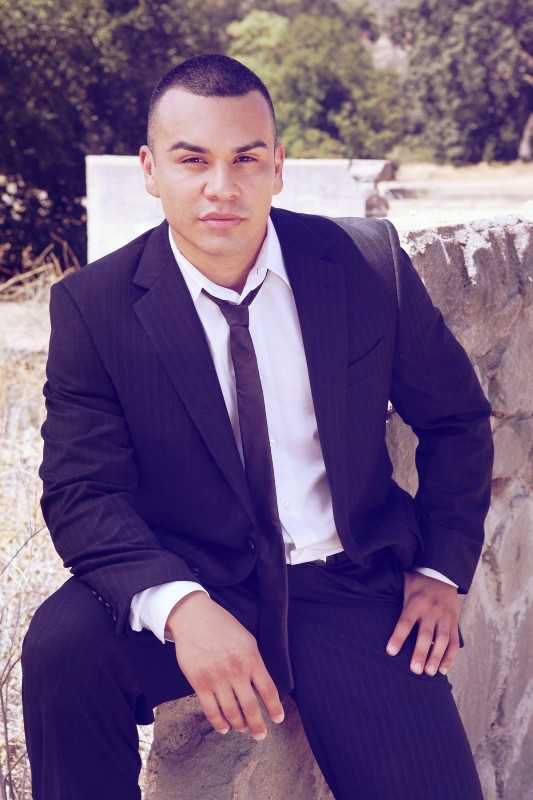 "Just expect more drama," he told me with a laugh, adding that Hector is still in the process of "Becoming a young man, so to speak. He's still immature, stubborn and a bit hotheaded - like his wife - and he's growing up. I think he has a big heart. He loves his wife dearly."
That last part is something both actor and character have in common, as J.J. said the best part of his job is working with co-star Alyssa Diaz, who plays Gloria. "I love working with Alyssa," he explained. "Our storyline is very interesting - playing all the different dynamics of that relationship. There's a lot of stuff to play. It's heavy [and] there [can] be a lot of emotional stuff."
The recurring Army Wives role is a significant promotion for the Los Angeles native, who previously had been a guest actor on a variety of shows. "I was ready for it," he said of the step up after eight years and a resume including appearances on The Shield, NCIS, Southland, Sons of Anarchy and the final season of Lie To Me.
However, J.J. almost didn't become an actor in the first place; he had prepared for a career in physical therapy before college changed his mind. "I took a class in college because I needed credits. I took the theater class because it seemed the least boring, to be honest with you," he told me. "By the end of the class, I fell in love with the idea of making a living by creating characters and telling stories. It just hit me like a ton of bricks."
His first credit was in 2004, but it took him a few years to become noticed. "My first film that got me out there was a film called Hamlet 2 with Steve Coogan [in 2008]," he said. "There's another film I did called Crank: High Voltage [in 2009, with Jason Statham]. Those are my two most well known projects."
Since then, he's looking for the next opportunity to do something significant, which may not mean taking the biggest project or waiting for the biggest role. "Every time I get an opportunity to work or audition, I look for reasons to do the project," he explained. "I look for something, whether it be a character, somebody I want to work with, maybe even a specific scene. There's different reasons for doing different projects. Not every script that comes across is the best script, but it may have a really great scene with my character or there may be some amazing actors attached to it and I want to work with them."
In addition to his work on Army Wives, J.J. has a number of upcoming projects on their way out. "I have a fim called Filly Brown [with] Edward James Olmos, Lou Diamond Phillips, and myself," he told me. "It's a story about a girl who is a street poet [played by Gina Rodriguez] and her aspirations to become a rapper signed to a label. I am the star of the label that she comes on. I feel threatened by her coming in, and I do whatever it takes to hold onto it." He's also completed filming on the picture Mission Park, which will release next year.
What is most impressive about J.J., however, is his commitment to his already-growing fan base, and to using his success for purposes bigger than just establishing an acting career. "I love my fans. I really, truly, I can't say enough how much I appreciate them. They're part of my journey," he told me. "In all honesty, without your fans, there's no real point. You need a fan base. You need people that want to see your work. I've always wanted a relationship with my fans and I have that.
"I truly and genuinely appreciate it and I support them in whatever they're doing. I'm still working my way up and if they can relate to that, then that's freaking amazing. That's actually my purpose in life. Acting is my passion, but inspiring is my purpose. That's what I do on a daily basis."
J.J.'s fans can reach him directly on Twitter (​@jjsoria​) and on Facebook. He also participates in a number of charity events, including those benefiting one that his ​Army Wives​ character would approve of: the Wounded Warrior Project.
There may be more drama ahead in Hector's life, but the young man who plays him is drama-free and working hard to not only entertain, but also inspire and leave a lasting impact in the world. That certainly makes him a welcome addition to the ranks of Army Wives.
Army Wives continues its sixth season tonight at 10 PM ET/PT on Lifetime.
(c)2012 Brittany Frederick/Digital Airwaves. Appears at Starpulse with permission. All rights reserved. No reproduction permitted.