'Army Wives' Season Finale 'Fields of Fire'

Roxy and Trevor:
The Hump Bar, along with other places on the strip, has been declared off limits to soldiers because of behavior. Roxy feels the bar can't make it without the patronage of the soldiers. She decides to fire Viola because she wants Viola to pursue the singing job in Atlanta. Viola puts up a fuss because she's loyal to Roxy, but Roxy tell s her she needs a kick in the pants.
Trevor, feeling the pinch of financial strain, is now saying that maybe the time isn't right to have a new baby. Oh, now he's saying that just when Roxy sees the double line on her home pregnancy test! Roxy was planning a special dinner to tell Trevor the good news, but she ends up telling Trevor through tears that she's pregnant.
Trevor is overjoyed.
Claudia Joy and Michael:
Michael gets promoted to Major General.
Pamela and Chase
Chase gets the cast off his leg. Pamela wants to hang out as a family; Chase wants to go to the gym so he can start getting back in shape. Pamela is not happy about this. Chase missed his daughter's ballet recital because he had to take his workout partner to the hospital.
Pamela seethes.
They decide to take a family trip, yet Chase cancelled that because he decided to go to a training course in Colorado. Pamela told him if he does that, she and the kids would not be there when he got back.
Chase walks into an empty house.
Roland
The FBI comes into the clinic looking for Price, aka David Sanders. Apparently, Price planted a bomb in a federal office building back in 1980 and has been on the lam ever since.
Joan meets with Muslim leaders in Iraq. She wants safe passage for her troops. The leaders are not thrilled because they have no real respect for women. Joan is not intimidated.
Some time after the meeting, Joan gets caught up in sniper fire and a huge explosion.
At this point, we don't know if Joan is alive or dead, but it does not bode well.
Denise and Frank
It turns out that the guy Jeremy decked in the Hump Bar was a councilwoman's son. Of course, she plans to pursue the matter and make a big stink over it.
Jeremy is still deeply depressed. He eyes his father's gun.
As Denise and Frank return home from Michael's festivities, they hear a gun shot.
At this point, we don't know if Jeremy is alive or dead, but it does not bode well.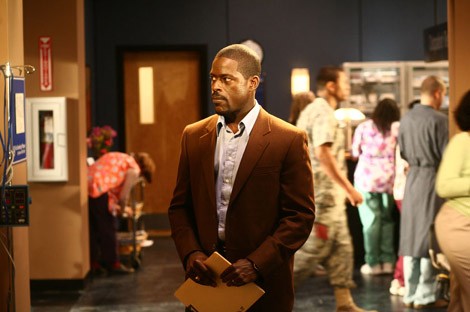 Image © Lifetime Television
All in all, this was a very good season. The plots and subplots were interesting and there were good resolutions. We saw different sides of some of the characters, although we do feel that Denise jumped back in with the other women a little too quickly after the way they shunned her. We like the Pam/Chase tension toward the end. Two possible deaths as cliffhangers? That's a bit much, but the good thing about Army Wives is you don't feel that it's a downer and you don't want to return to the show. What do you think? Joan or Jeremy, and why? Which character has the most potential for another season? Do you care about either?
Army Wives 2009-A-
Story by
Donna Terrell
Starpulse contributing writer