'Army Wives' Recap: 'Operation: Tango'

This episode of
Army Wives
came with a disclaimer. If you were watching Lifetime right before the show came on, it said that the last five minutes would change the course of all of their lives-forever.
Roxy, Trevor and the gang
Trevor is now Sergeant LeBlanc.
The Hump Bar is humpin'! Music is blaring (Country Star
Jack Ingram
was fantastic!), people are drinking and getting drunk, loose women are coming onto the soldiers. One comes tries to hit on Trevor. Roxy quickly squashed that. PFC Day then hits on the woman, who shoots him down. Some Navy guys start ribbing him, and this riles him up. A huge fight breaks out. Trevor gets Day out of there just as the police show up.
Roxy talks to the principal of the private school where she hopes to send Finn. The principal tells Roxy that they don't just accept the child; the parents play a big part at the school. Roxy tells the lady that she's in "food and beverage management."
Roxy then decides to just be herself, which is lovable, earthy and unpretentious. Finn gets into the school with a full scholarship.
Trevor talks to his buddy PFC Day. Trevor reveals that his father is in prison on a murder rap. He convinces Day to go back to counseling.
Joan is impressed by the way Trevor handled Day's situation, and she suggests he consider becoming a recruiter.
Pamela
Pamela's 10-year old daughter Katy feels that she's fat and ugly. She wants to look "sexy."
Joan and Roland
Roland and Joan are having problems. Probably pre-deployment jitters. Roland gets Joan a video attachment for her computer. Joan records a nice message for her husband.
Denise and Frank
Denise just hangs out with Claudia Joy in this ep. No Frank.
Claudia Joy and Michael
The Holdens have to host a senator's wife, who needs to be at a special ceremony for her late husband. Jean Calhoun (
Kelly
"
Gilmore Girls
" Bishop) turns out to be quite a handful, and Claudia Joy and Denise have a hard time keeping up with her. They want to take Mrs. Calhoun to museums and libraries, but she's rather jump out of planes and blow stuff up.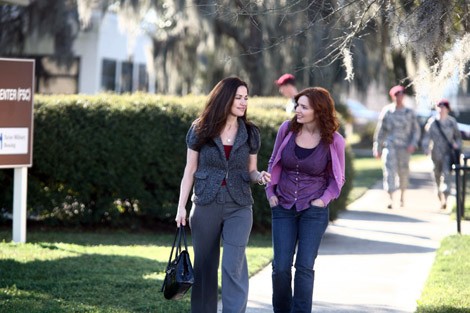 Army Wives © Lifetime Television
Mrs. Calhoun pinches a soldier's butt. She goes to the Hump Bar and dances the tango with the cook. She gets totally ploshed and barely makes it to the ceremony on time. Claudia Joy and Denise are totally mortified.
Jean Cahoun tells Claudia Joy and Denise they worry too much and they need to grab life by the horns. She gives them each a gift certificate to a spa.
Taking Mrs. Calhoun's advice, CJ and Denise head out to the spa. Claudia Joy starts to feel woozy as she is driving. She veers off into oncoming traffic.
Claudia Joy and Denise get into a horrific accident.
Bookmark our 'Army Wives' News page & check back for regular episode recaps & news!
Story by
Donna Terrell
Starpulse contributing writer