'Army Wives' Recap: 'Incoming'

This weed on
Army Wives
: Michael lost his NATO post in Brussels. However, he is in line for a Division Commander post, on his way to becoming a 2-Star General. The family will get to remain in their home.
Emmalin continues to win congeniality points. She dyed her hair, much to the chagrin of her parents. She and her father still are not speaking. Emmalin is still mad and Michael doesn't know how to relate to her. He is still standing his ground about not coddling his daughter.
Michael and Claudia Joy have a conversation about Denise and Frank's situation. Michael feels that divorce is the only recourse for the Sherwoods.
Claudia Joy runs into Denise in a parking lot. The tension is thick. She tells Denise she's been meaning to stop by. Yeah, right. Denise has not forgotten that Claudia Joy closed the door in her face. Claudia Joy defends her actions by saying she was in no position to talk to Denise, a woman who cheated on her husband, when her own husband just went overseas. She says no one knows how to act around Denise.
Roxy and Trevor
Roxy and Trevor visit Pamela in her very nice, very big new house. Trevor is not comfortable in Pamela's home. Later, Trevor confesses to Roxy that he doesn't think he'll ever be able to give her a house like that. Roxy reassures her husband that she's happy with him and the boys.
Trevor is still doing extra duty.
Pamela
She and her kids move into a beautiful and rather large new house. It's a little too big for a person who doesn't even know her way around a toaster.
Joan and Roland
Terrence Price comes to see Roland. He asks Roland to do a paid consult. At first Roland wants nothing to do with Price and anything associated with him. But he sees the patient and prescribed some meds. Price then talks Roland into coming on board with him and his practice. Roland says they would kill each other. Price tells him not for at least a year or two, and what else does Roland have to do? Price feels they can help people.
It's good for Roland to stop hanging out with a bunch of women.
Michael asks Joan to stay stateside with him back in her old position. Although Joan wants to work with Michael, and she wants to stay with her husband and baby, Joan decides that she'd rather be deployed along with her unit. So it's off to Iraq for Joan. Roland wasn't happy, but he said he has no choice but to understand.
Denise and Frank
Jeremy's squad runs across a lovable dog that had its paws handcuffed. A bomb goes off, and it's because of the dog that Jeremy makes it. He names the dog Lucky. His evil leader won't let him keep Lucky.
Frank has an apprehension filled plane ride home. He sees the soldiers being greeted by their women, and he goes home alone. Denise would have picked him up, but he didn't want that.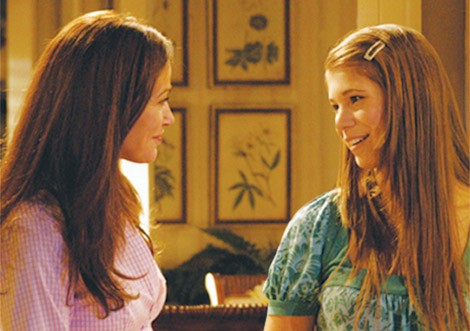 All Frank wants to know is are the "rumors" true. Denise said she made a mistake, and it's over. Frank tells her there's no reason for her to stay in their home. He puts Denise out. He will get the lawyers going the next day. Divorce is imminent.
This is all about ego. They didn't even have any further conversation. Why does Denise have to leave? Why should she stay in some ol' motel room? Frank is going back to Iraq. He wants to be able to save face in front of everybody. He wants to tell people he kicked Denise to the curb.
Bring this to your next potluck: Claudia Joy, Emmalin, and Michael had a tofurkey dinner. Turkey flavored tofu. Eeeyew!
Bookmark our 'Army Wives' News page & check back for regular episode recaps & news!
Story by
Donna Terrell
Starpulse contributing writer