'Army Wives' Recap: ' First Response.'

Roxy, Trevor and the gang
Trevor is now in Recruiter Training. Finn started his new school. TJ is being a poop towards his brother. He feels no one cares about him as Finn rattles on and on about what he did in his gifted classes. Trevor notices this and takes TJ on a special father-son fishing expedition. Nice bonding.
Pamela
Nothing new here. She was not a factor in this episode. She said she misses Chase.
Claudia Joy and Michael
Claudia Joy caught the worst of the accident. Her injuries reads like a Grey's Anatomy checklist-concussion, arterial laceration of the left wrist, other assorted bumps and bruises. If it were not for Denise applying pressure to Claudia Joy's wrist, she may have bled out. Her tests also showed that she has very high glucose levels, which can't be ignored.
It turns out that Claudia Joy has type 2 diabetes. Although she doesn't fit the classic mode, her symptoms, thirst, tiredness, blurry vision, point toward it. She had a hard time accepting this diagnosis. Claudia Joy has to begin insulin therapy immediately.
Claudia Joy caused that accident by driving on the wrong side of the road when her vision became blurred. Luckily, Denise is her best friend or that would be a lawsuit.
Denise and Frank
Denise just has minor cuts and scrapes from the accident. Denise sticks to her word about being cordial toward Michael. Later, Michael comes to Denise's home and apologizes to her. He thanks her for saving his wife's life and says she's welcome in their home anytime.
Jeremy made an appearance in this ep. He's glad his parents are back together. When an explosion happens, Jeremy's friend asks him to call his parents should something happen. Jeremy says no one is making any calls; they're out of there in two weeks.
Hmmm, a foreshadowing of a future event?
No Frank.
Joan and Roland
Nothing interesting here this week. Joan sent "her best" to Claudia Joy. Her best? Claudia Joy is her daughter's godmother and that's all she can do?
Roland continues to look out of place sitting around a bunch of women.
There was nothing in this episode that pointed to "changing the course of 5 lives forever," as was claimed on last week's promo. Claudia Joy having diabetes only changes her family, not everyone else.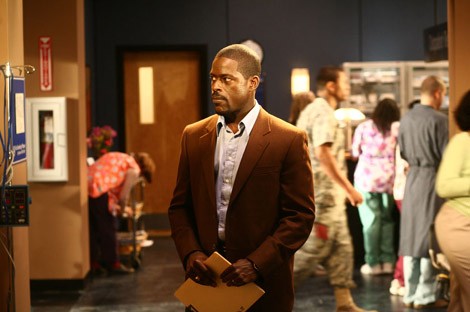 Image © Lifetime Television
Army Wives
Cast:
Elyse Knox
- (Jerry),
Marjorie Rambeau
- (Mrs. Shannahan),
Rick Vallin
- (Barney),
Dorothea Kent
- (Louise),
Murray Alper
- (Mike),
Hardie Albright
- (Verne),
Billy Lenhart
- (Billy Shannahan),
more
Story by
Donna Terrell
Starpulse contributing writer