'Army Wives' Recap: ' Fields of Fire'

Roxy and Trevor:
Trevor continues to work with new recruits. He's got another one shored up to pass the physical.
Roxy and Pamela end up playing in the charity women's golf tournament with Claudia Joy and Denise. To Denise's chagrin, Roxy is her partner. Roxy acts like it's a day at Kiddieland. She's screaming, whooping, hollering and basically making a spectacle of herself. She's not schooled on "proper golf etiquette." They came in second place. Denise, who's an avid golfer, yells at Roxy.
Viola struts her stuff on the Hump Bar stage. She's quite the singer.
Pamela and Chase
Pamela avoids Chase. She says he's changed.
Roland
He counsels a woman named Carmen who has drug issues. Roland tells Carmen to check in with him three times a day. Carmen, totally out of her head, called into the office from a bus stop. Roland and Price go to pick her up. While struggling to load Carmen in the car, two cops pull up and think Roland and Price are assaulting Carmen. The two doctors are cuffed and made to lie on the ground. They are arrested.
Later, Roland is riled up. He wants to organize a protest against racial profiling. Price's attitude is "whatever; it's just part of being Black in America."
Price later hurriedly packs up some stuff, including his passport. He told Roland to keep things going at the clinic. Roland tries to get Price to tell him what was going on. Apparently Price is in some major trouble.
Denise and Frank
Jeremy is stilled wracked with grief about his friend. One bit of cheer was when while jogging in the park, he saw Lucky the dog. Lucky recognized Jeremy and they had a wonderful reunion-until T.J. and Finn showed up. Emmalin, who was babysitting, explained to Jeremy that the LeBlancs adopted Lucky. So, dejected Jeremy leaves Lucky with the two boys.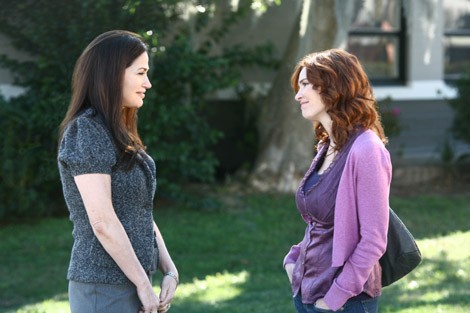 Image © Lifetime Television
Later, Jeremy has too many drinks and gets into a fight at the Hump Bar.
Claudia Joy and Michael
A four-star general visits Michael and informs him that Fort Marshall will probably be closed within 18 months.
Bookmark our 'Army Wives' News page & check back for regular episode recaps & news!
Story by
Donna Terrell
Starpulse contributing writer