'Army Wives' Recap: 'Family Readiness'

Joan and Roland
Joan is called to an emergency breach of security situation. One of her subordinates is very apologetic that the situation escalated to Joan's level, as if she really didn't want Joan to know what was really going on.
Turns out that Lucky the dog has made his way stateside. Cute, lovable Lucky then proceeds to wreak havoc all over the office. No one can contain him.
Price wants Roland to ask if a doctor can do a pro bono surgery on an Iraqi girl whose family is said to have helped the Americans out. Price has something to do with this girl getting into the country. Let's hope Price doesn't get Roland into some serious trouble down the road.
Sarah Elizabeth's christening actually is a very nice affair.
Claudia Joy, Emmalin, Michael
The women all gathered for a gabfest, including Denise. The room got quiet when Frank's name was mentioned.
Claudia Joy talks to Michael about helping a little Iraqi girl get necessary surgery on her hands. Michael agrees. Claudia Joy also agreed to host the girl while she's recouping from the surgery. Michael didn't agree to that, but let CJ run the show. Emmalin instantly bonds with the girl, even speaking in the girl's native tongue.
Michael continues to shoot his mouth off about the Frank and Denise situation. This time Frank snapped on him.
This family continues to be a weekly bore.
Roxy and Trevor
Roxy wants to cut her hair. Trevor opposes this change. Trevor, by order of Joan, has to take Lucky the dog to the animal shelter. Joan was impressed by Trevor's canine handling skills. En route, he's sidetracked by a call from Roxy, who locked herself out the house. Of course, the boys see Lucky and it's mutual love at first sight. Lucky proceeds to wreak havoc throughout the house.
The boys, including big kid Trevor, beg Roxy into letting Lucky stay. Roxy relents.
Pamela
Passive-aggressive tit-for-tat continues to go on with Pamela and Chase. Pamela goes to football practice and relegates Chase to ballet. He's not happy. He feels that his wife is manipulating his schedule. Chase decides that he will leave town for about six weeks because he's not needed nor wanted at home. Pamela says that he encroached on her territory and all Chase does is criticize her.
Denise and Frank
Denise actually smiled in this episode! She had a few laughs with Claudia Joy, Roxy, and Pamela. Claudia Joy helped Denise start packing. Denise spoke of her sadness about packing up and having to return one of Frank's family heirlooms.
Frank defends Denise to Michael, who was telling Frank that the whole base was behind him as far as the divorce is concerned. Michael goes on about "what that woman did to you." Frank immediately cut him off, telling Michael that Denise is still his wife and he's not going to have all that.
Later, Frank remembers the good times and has a good cry.
Frank and Denise saw each other at the christening. Frank tells Denise that he doesn't know how they'll make it work, but he doesn't want to let her go.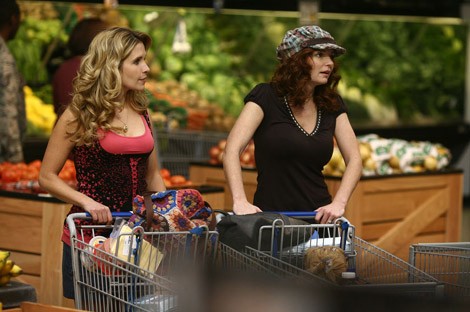 Image © Lifetime Television
The Old Bat Award goes to: Michael. He sounds like he should be the one to hang around a bunch of women. Meeeeooooow!
Bookmark our 'Army Wives' News page & check back for regular episode recaps & news!
Story by
Donna Terrell
Starpulse contributing writer