'Army Wives' Recap: 'Duty To Inform'

Claudia Joy and Michael
: Claudia Joy has started her insulin/blood sugar checking/glucose level thing. Michael tries to be a part of it, but is rebuffed. Emmalin attempts to clear the kitchen of all sugary and processed foods and gets snapped on by Claudia Joy. Claudia Joy feels it is a private matter, she'll do things her own way, deal with her own kitchen, and tell who she wants to tell when she wants to tell them.
Diabetes is nothing to hide and be ashamed of; it's not like Claudia Joy found out that she'll turn into a werewolf at the next full moon.
While at Roxy's house, Claudia Joy falls out from low blood sugar. Luckily, Denise is there to give her an injection. Denise tells Claudia Joy that this is exactly why she should tell her friends. People need to know how to help her. Claudia Joy again says it's her problem; she'll deal with it her way and people don't need to know every detail of her private life.
Roxy and Trevor
Trevor is now a Recruiter.
He has a real jerk for a boss, who tells Trevor that he must bring in two new recruits a month. Trevor begins to frantically try to pull in new people. One guy comes in, yet is reluctant to sign because of his fiancée. Trevor and Roxy take the young man and his fiancée out to dinner. Trevor feels Roxy could probably put the young lady's mind at ease.
Roxy goes on and on about the great medical benefits the Army has and how great they were when "Trevor got shot up in Iraq." She raved about the physical therapy he received so "he could be deployable again." Needless to say, that's one less soldier the Army will get.
He approaches a girls' high school track team. One girl does appear to be curious. The team ran off and Trevor ran behind them to try and talk to the girl. She blew him off. However, the girl, Canessa, later came to see Trevor at the recruiting office.
Trevor is going to start a Candidate Physical Training group.
Pamela
Chase was supposed to have been home two weeks ago. He hasn't even called. Pamela runs into a guy from Chase's unit while at the store. The man is acting weird and mysterious. He has a broken arm. He says to Pamela, "The unit's not back and you didn't see me." By now, Pamela knows something is terrible wrong and she tries to extract info from the Army. That's like extracting teeth.
She finds out from Claudia Joy that doctors were dispatched to the Special Ops compound to assist with a returning unit.
Pamela goes to the compound, where she is denied entrance and information. She camps out. Finally, they take her to her husband.
Pamela is shocked when she sees Chase.
Why, we have yet to find out.
Denise and Frank
Denise never told Frank the details of the accident. Michael filled him in. Frank tells Denise he is very proud of her. He also says that he doesn't want to fall into the same patterns of behavior as before. Frank feels they both need to have lives outside the home. He wants Denise to go back into nursing.
Denise says she was thinking about becoming a paramedic. Frank is all for it.
Joan and Roland
Roland proposes a nice beach getaway for Joan and himself. Joan says she has too much work to do. Roland then sets up a nice mock oceanfront for Joan. A staycation, if you will.
After a romantic dinner that included oysters and a luscious cake, Roland and Joan ended up paying homage to the porcelain god.
Food poisoning. Darn those oysters!
Bookmark our 'Army Wives' News page & check back for regular episode recaps & news!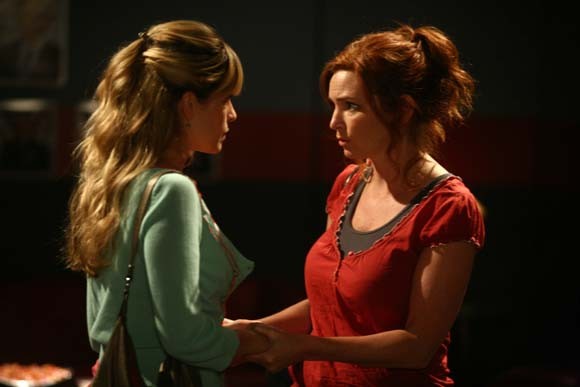 Army Wives © Lifetime Television
Story by
Donna Terrell
Starpulse contributing writer