'Army Wives' Recap: 'Disengagement'

Claudia Joy, Emmalin, Michael
No major haps with them this week on
Army Wives
. Michael suggested to Frank that he use a mediator for the divorce.
Michael is an indirect instigator. He keeps giving his opinion about somebody else's business.
Roxy and Trevor
Roxy has a lackluster reopening of the bar. Viola Crawford offers input. Viola revealed that she has no money and needs a job. Roxy relents and hires her as manager.
It appears that Viola wants to take over the whole operation. Roxy leaves her alone for one afternoon, and Viola hires a cook, proclaims a Ladies Night and gives away the first drink. She and Roxy argue, and Viola storms out, or Roxy throws her out. One of those 'you're fired, you can't fire me, I quit' things.
Turns out that the seedy-looking cook throws down a serious pot of gumbo. Even Pamela was impressed. Roxy goes to Viola's home and asks her to come bar to the bar.
Viola never did apologize to Roxy for over-stepping her bounds. However, she did assure Roxy that she could be trusted.
Pamela
Husband Chase comes home early. His homecoming morphs into a territorial tug-o-war with Pamela. Chase moves the furniture; Pamela moves it back. She feels he criticizes everything she does.
Pamela decides to become the assistant coach of her son's football team. Turns out Pamela has skills, and the coach was impressed. Chase was not. Part of the reason why she did it was to spite her husband.
Joan and Roland
Joan decides that she wants baby Sarah Elizabeth christened. This is strange because Joan has no relationship with the Lord, nor wants religion jammed down her throat. The first minister she called did just that. She and Roland found another ministerial type, one who was more to Joan's comfort level. Joan wants to feel like her baby has the protective covering of a loving spiritual community.
Roland has a serious talk with Roxy, Pam and Claudia Joy. He told them that they need to reconnect with Denise. Roland revealed that he, too, had an affair. He said Denise was there for him and showed him much-needed friendship.
Denise and Frank
Let the mud slinging begin! If the lawyers had their way, that's exactly what would be going on. Denise's lawyer wants to paint an unflattering picture of Frank, as his lawyer wants to do regarding Denise. Frank's lawyer wants to portray Denise as a serial adulteress.
It's clear that neither want this divorce. For Frank, it's sheer pride. He's reacting from anger. When the dust settles, he's gonna be real sorry.
Denise decides that she's going to join the staff of a traveling nurses' agency and leave town for Denver.
Pamela, Roxy and Claudia Joy come over to apologize and tell Denise they don't want her to go. It was very big of Denise to accept their apology. Those three showed their true colors by acting like 7th graders.
Prediction:
Something is going to happen to Jeremy and that will bring Frank back to Denise.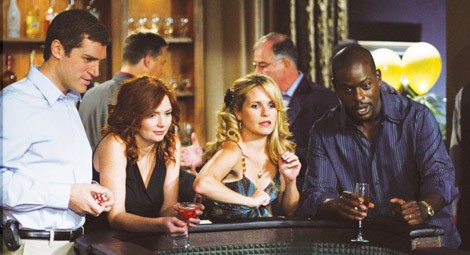 Image © WDSHE
Story by
Donna Terrell
Starpulse contributing writer