'Army Wives' Recap: 'As Time Goes By'

A SWING Time Warp!
Roxy and Pam's kids are singing at the local nursing home. They are not able to see the actual concert, so they sit outside in the waiting room. There they meet two residents, Virginia and Elsie, who have been friends for over 60 years. The two likeable elderly ladies tell their story about 1943 Fort Marshall to Roxy and Pam.
Cue Glen Miller Big Band music, flashback to a USO dance…
Roxy and Trevor (Virginia and Worth)
Virginia, a beautiful blond, comes to Fort Marshall with great trepidation. She's not excited about her husband having to leave her and go off to combat.
Pamela and Chase (Elsie and Paul)
Elsie is a photographer with a quick tongue. She takes an instant dislike to Virginia.
Joan and Roland (Lois and Calvin)
Lois is a cleaning woman and Calvin is frustrated because of all the racism in the service. They are dating.
Denise and Frank (Hazel and Dale)
Hazel is a WASP, Women's Air Force Service Pilot. Dale runs a successful roadhouse bar.
Claudia Joy and Michael (Lorraine and Warren)
Warren is an officer and Lorraine works in the ship building plant.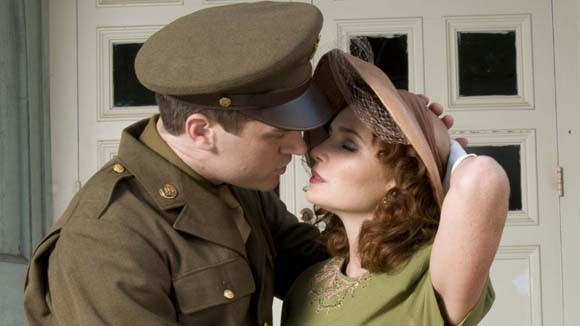 Image © Lifetime
At this dance in 1943, the couples meet, some for the first time. Elsie and Virginia don't get off to a good start. Elsie meets Paul. She literally bumps into him on the dance floor and causes him to spill his coffee all over his uniform. It was love at first sight.
Calvin has to sneak into the dance hall to see Lois. He tells her he'll wait in the parking lot for her to get off. Later, Calvin finds a group of drunken rednecks sitting on his car. A fight breaks out, and Warren, Paul and Worth come to Calvin's defense.
All the men have to leave on the same day to go overseas. Paul asks Elsie to marry him. They have the reception at Dale's roadhouse. The ladies take pin-up photos for their guys.
While jumping out of a plane, Warren gets his spine severed. He returns in a wheelchair. Lorraine reassures her husband that she's not leaving him.
Some time later, Warren and Dale are hanging out in the bar playing checkers. That same drunk redneck comes in and recognizes Warren from the fight outside the USO. Seeing Warren in a wheelchair, the guy takes advantage and beats Warren. Dale comes to Warren's defense, and the guy stabs him. Dale dies.
Hazel, grief stricken, leaves the WASPs. She decides to sell the bar to a family that changed the name to the Hump Bar. They had a little girl they called Dimples, aka Betty.
Elsie goes to London for the Red Cross to be closer to Paul. She returns pregnant. While the gang is hanging out in the bar, a soldier comes and delivers a telegram. Paul has been killed in the Battle of the Bulge.
Ultimately, Calvin gets a chance to fight, thanks to President Roosevelt. He and Lois married and moved to Atlanta. Lorraine became an advocate for the disabled. Hazel became a bush pilot in Africa. Worth and Virginia had three kids. Elsie never remarried; Paul was the love of her life.
Roxy and Pam thoroughly enjoyed their time with Virginia and Elsie and asked if they could visit them again.
Story by
Donna Terrell
Starpulse contributing writer